by Guillaume Tesson on mag.bynez.com, June 9th 2022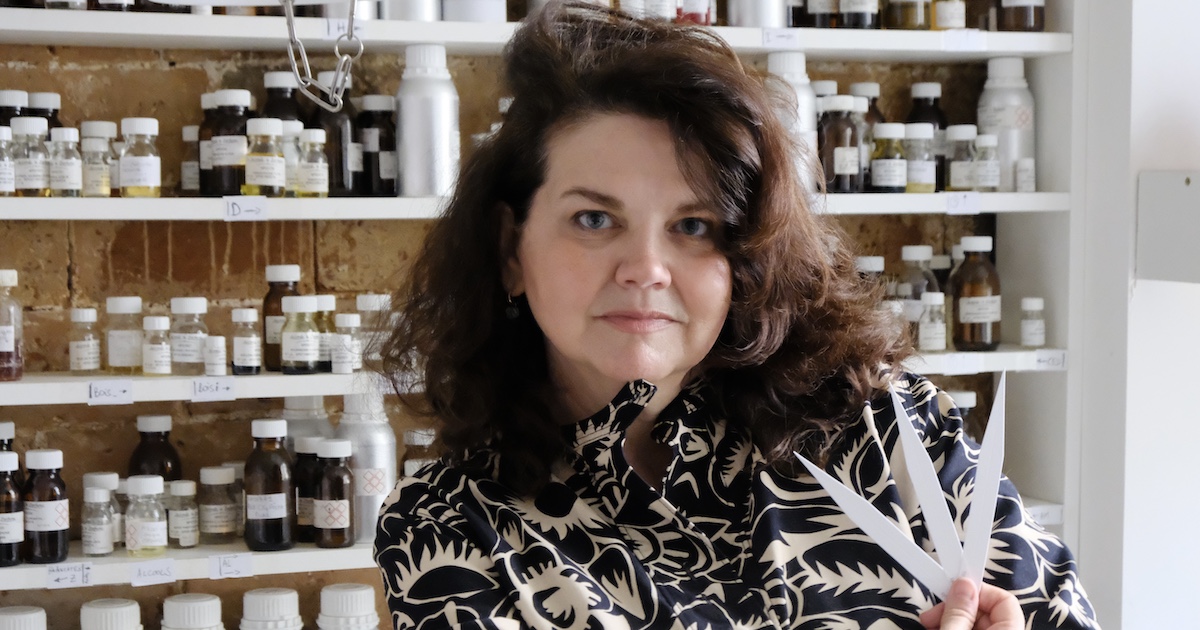 After more than thirty years working with some of the best-known composition houses, Nathalie Feisthauer chose to set up on her own in 2014. As somebody constantly searching for new aesthetic directions, she is powerfully drawn to niche perfumery since it gives her a greater degree of creative freedom. Interview.
From 1986 to 2014 you were creating scents for brands such as Cartier, Versace and Azzaro, working first for Givaudan then moving to Symrise before setting up as an independent. What motivated you to make the change?
I was lucky enough to experience some of perfumery's golden years. Nobody was happier than I was on a Sunday night in the knowledge that I'd be back in the office the following morning. I was short-listed for countless projects, I'd had quite a few wins and worked with highly skilled colleagues and clients. In the early 2000s, consumer testing began to be used to guide the creative process. I wasn't against it on principle. But one day I suddenly felt my work had lost its meaning. I'd had enough of needing to run 500 tests for a flanker that was just a touch more gourmand than the original. I no longer had any faith in briefs targeting "an opera-going woman who loves Labradors, the countryside and her husband." Not to mention the way perfumers were encouraged to compete against each other within the same company, which often verged on the ridiculous. Testing was no longer about picking the best concept, but merely about avoiding rejection. I was so powerless to stand up for my own creations that I decided I'd set up as an independent. I wanted the freedom to explore new aesthetic avenues, something that niche lets me do on a daily basis. The name I chose for my company, LAB Scent, is followed by the motto "scents that make sense."
In what ways did this new departure alter your creative process? 
I swapped gesticulation for singularity. When I still worked for the majors, I'd spend my time smoothing out the rough edges, watering down my creations. Today, I'm free to suggest something that has jagged edges. When I answer a brief, I'll often suggest a new slant, a sometimes unexpected approach that reflects what the client is asking for while setting off in a much looser direction. This can create disagreements but, honestly, people like it 95% of the time. Something else new is that my formulations keep getting shorter as the years go by.
You compose almost exclusively for niche brands. How do you prepare when you have a brief to tackle?
I've kept the same reflexes I had when I worked for the majors. I research the brand, ask for a sample kit so I can get a sense of their products and avoid suggesting a tuberose or leather fragrance if there's already one in their line-up. And then there's the other type of client, the ones who choose me when they're just starting out. This happens fairly often in the Gulf states. In those cases I'll suggest something traditional (perhaps oud, rose or saffron) alongside a few choices that are very different. This helps me to understand how far they're willing to stray from the classics. For Aedes de Venustas, my first proposals played with weathered olfactory notes suggesting leather and cashmere. They thought it was my signature style, but it was actually totally bespoke.
You had an impressively vast choice of raw materials during your time with Givaudan then Symrise. Are things different today? 
When I won the contract for Blonde by Versace [no longer in production], it involved buying large quantities of tuberose from a great many growers. But niche brands don't need to generate the same volumes. Production of a concentrate might amount to 10 to 15 tonnes for a mainstream brand, compared to 50 to 100 kilos for a niche label. I discovered the joys of searching for ingredients available in small quantities which, by definition, are of no interest to the big players. For instance, my main partner, Olivier Maure of Art & Parfum, can source cascarilla, a bark with woody peppery notes that I used in Odisiaque N°6 by Sous le Manteau, and absolute of champak, palo santo or absolute of frangipani. For me, niche is a definition of beauty, the uncompromised choices of a creative director. I love leaning into rare ingredients as a way of bringing this vision to life. I'm starting working for a new client in China. They asked for the first scent to be formulated using pei lan, better known as the fortune herb. I don't in any way see the request as a shackle – it actually nourishes my creative freedom.
How much time do you spend on development?
Niche perfume houses, unlike in the mass market, don't spend two years mould-making or redesigning stoppers. All this time saved means they can keep the initial energy alive. That suits me fine. I hate endlessly fiddling and making micro-adjustments to my formulations. It's important to choose your battles, to know how to stop early enough. It takes me from three to six months to develop my fragrances. That's long enough to meet clients' demands while giving me enough time to get a sense of perspective about the results.
Right now, in mid-2022, if you had to pick just one trend in the niche sector, what would it be?
A little under a year ago, a good number of my French clients who had been using concentrations around 18% to 20% suddenly got in touch to ask for more intense versions with concentrations of 24%, 28% or even 30%. I've seen the same thing happen in the Middle East, where, despite many people's preconceptions, lots of creations top out at no more than 20%. These clients say it's to do with lots of feedback from customers claiming that their perfumes are less tenacious. Firstly, I think that oud has altered the markers over the past 10 years, delivering a new degree of intensity that didn't exist before. It's a trend that has become widespread among my niche perfumery clients. Secondly, I feel that with the side effects caused by the pandemic, like anosmia and an impaired sense of smell, people are possibly seeking reassurance through more intense sensations. I don't have an answer. Whatever the reasons, I responded to their requests straightaway, while making sure that my formulations respected IFRA standards for concentrations of up to 35%.
What do you hope to get from Esxence 2022?
After a two-year hiatus because of the pandemic, it's even more important as the go-to event for catching up with many of my clients, who are spread across 40 different countries. Esxence gives you a chance to catch up with people you've lost touch with, and to encounter new like-minded people. I love meeting the community of bloggers and people I message with on Instagram in the flesh. I also go to support niche brands that are presenting new products, like Alendor and Rebatchi, two brands I composed for recently.
Original article on : www.mag.bynez.com