by Sergey Borisov on fragrantica.com, July 11th 2022
"Motley itself, eats green and gives white; what is this?"
~Children's riddle
In March 2022, Canadian brand Zoologist Perfumes launched their new fragrance, Cow, inspired by a domesticated cow. Every fragrance by Victor Wong, art director and owner of the brand from Toronto, is named after some creature – and the face (muzzle?) of the fragrance is always depicted on the labels, humanized with the help of clothes.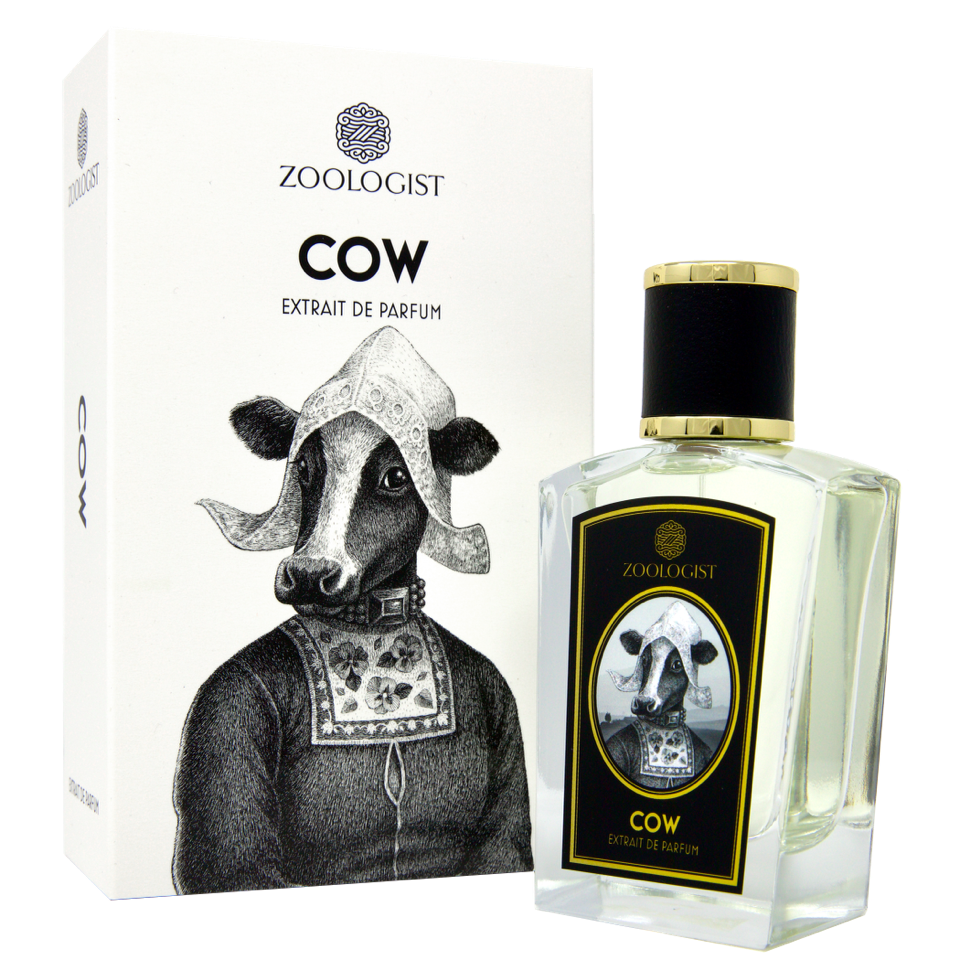 In this case, the cow was humanized with the help of the traditional festive clothes of girls from the north of the Netherlands, "klederdracht."
Headdress "kap," traditional "kraplap" on the chest with embroidered violets and a necklace with a decorative "eydelkral" buckle – compare, for example, with the festive attire of the girls from Volendam from the Netherlands or the painting "The Milkmaid" by Jan Vermeer (see below). Illustrator Daisy Chen tried to depict the cow at a young age, which is also emphasized by her clothes.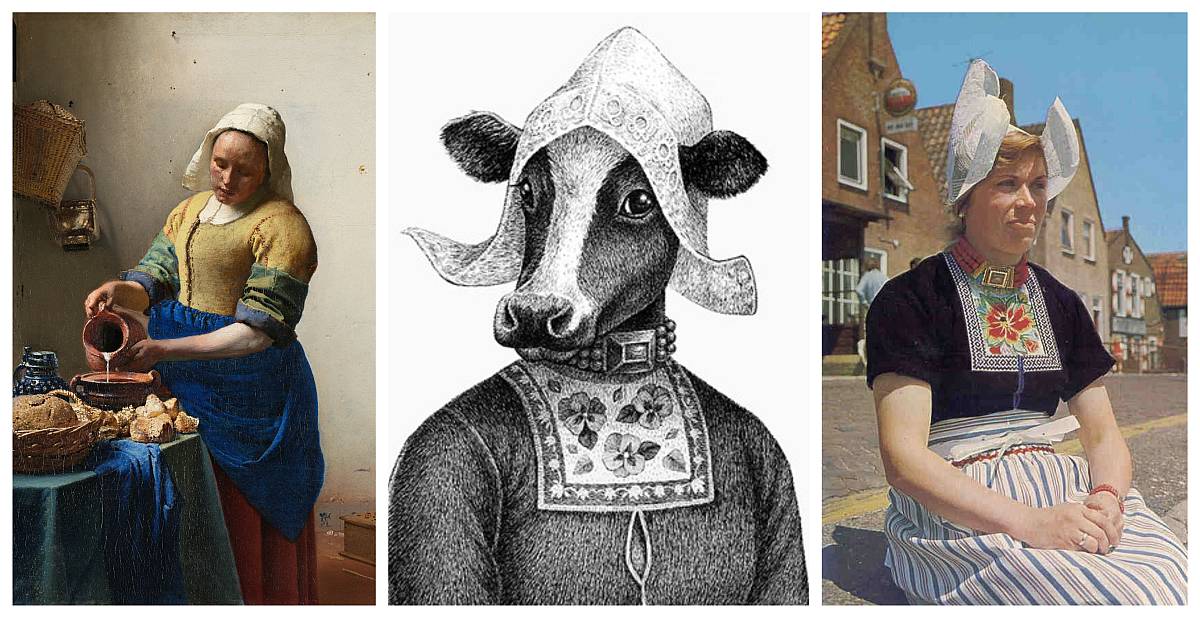 Childhood and youth are always associated with flowers and fresh greens, and Cow Zoologist created by Nathalie Feisthauer is no exception. Even the subtitle of the fragrance, "Verdant Prairies," says the same.
Lush green pastures tumble toward the horizon, arching beneath the imposing silhouette of a mountain range. Cumulus clouds roll across a bright blue sky, their massive shadows gliding over a peacefully grazing herd. In a corner of the meadow, a tiny calf braces quivering limbs and, with a mighty lurch, stumbles up to take its maiden steps. Its velvet snout prods, rooting at its mother, until the release of warm milk signals a satisfying welcome to this vast new world.
Zoologist Cow brings to mind a bucolic scene, a myriad of scents from Mother Nature's nurturing bosom. Innocent florals sway among soft grasses, while apple gently sweetens the soft aroma of fresh milk. The result is a place both familiar and reassuring, where warm arms unfold to welcome us into a loving embrace. A place called home."  – brand information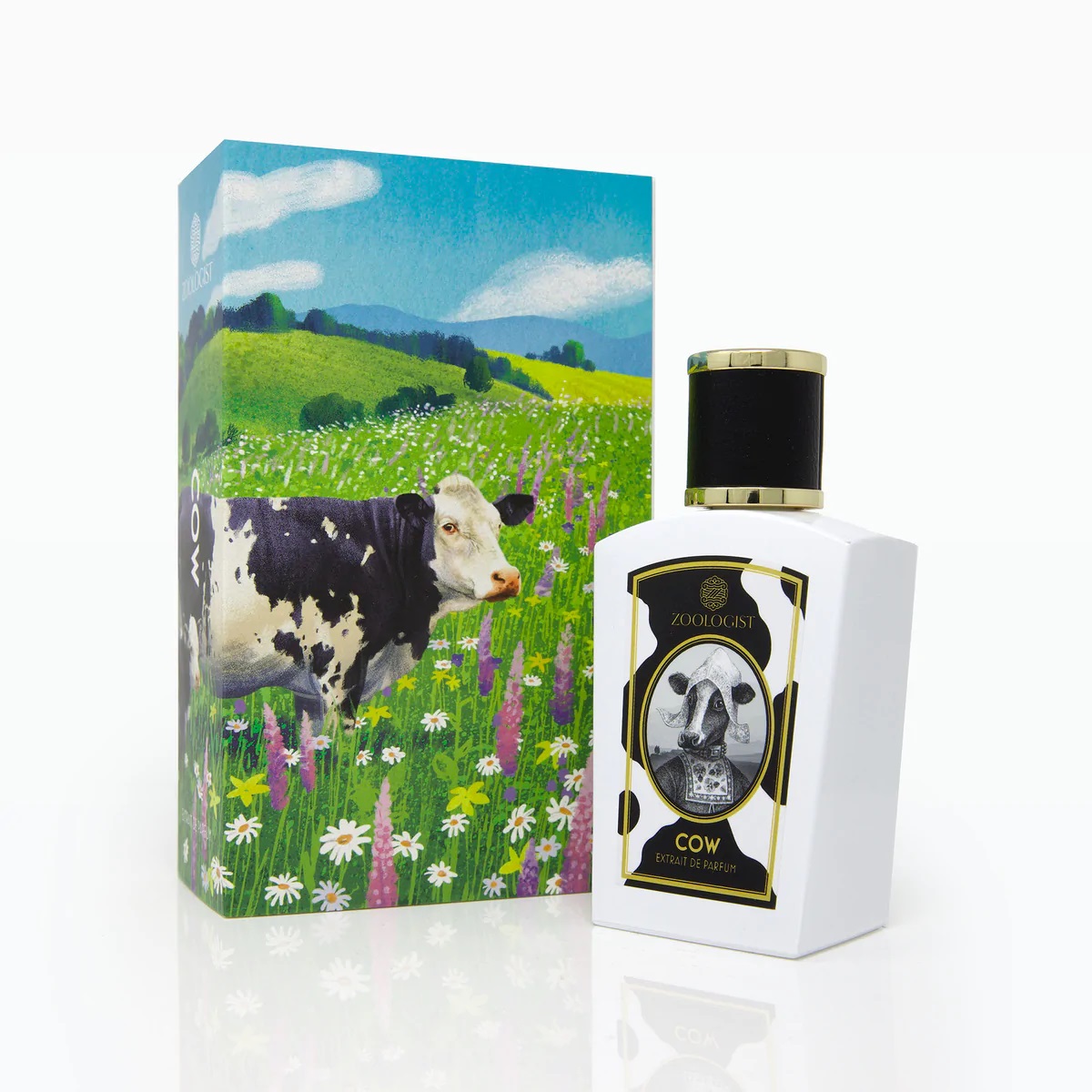 In Cow, the emphasis is on green freshness – sweetish green grass, transparent moisture, sour green apple, bitter aromatic clary sage – supported by solar Hedione. The opening doesn't smell like cows at all; it's more like a modern masculine fragrance of the green fougere family, albeit without obvious lavender and citruses, and without trendy cardamom among other "white spices." Perhaps lavender and a geranium-cloves accord were taken out in order to remove the gender references of the men's fragrance standard.
The milky part of Cow Zoologist is hidden deep under the greenery, although it is not noticeable at first, then this pleasant warm shade, created with Sulfurol or similar materials (see Dries Van Noten Frederic Malle, for example), can be noticed. But you have to literally drive your nose over the skin. This creamy soft part is enhanced by benzoin and a musky accord. The fragrance is not very sweet, rather pure pastoral Arcadia.
There is no place for earth or dirty animal shades (not to mention cow cakes) in this ideal idyllic fragrance. The young cow here is depicted like a cow angel, and she embodies a temple of physical and moral purity. I have already noted that the latest fragrances by Nathalie Feisthauer demonstrate a special whiteness, purity and softness, and Cow is another confirmation of this thesis.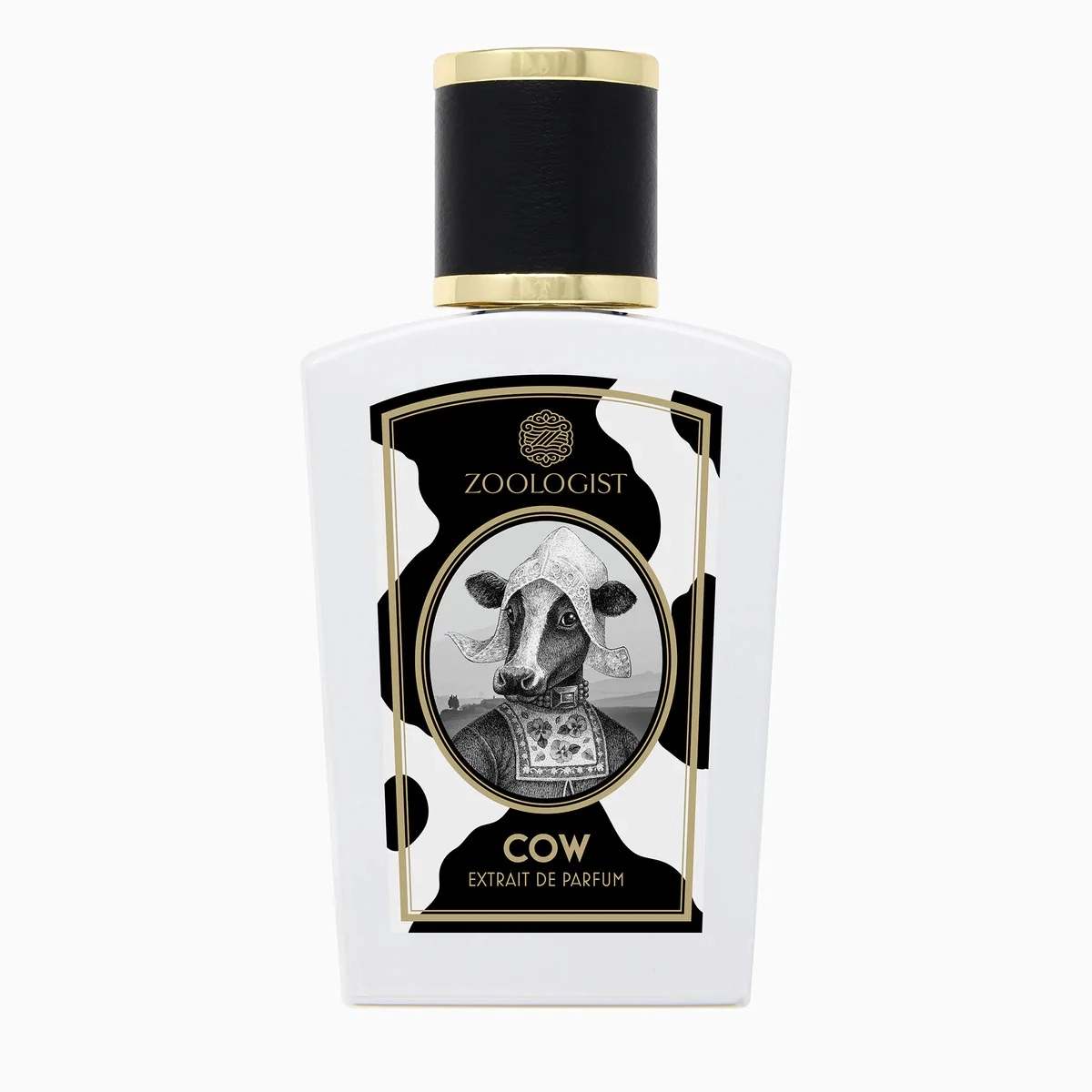 The Cow Zoologist fragrance is made not very loud and not intrusive at all. It does not have a meters-long sillage, and you can wear it to the office. Your children could also wear it to school or college. It can be mistaken for the smell of shower gel or Green Apple shampoo (the milky white shade is rather modest). However, it cannot be said that the fragrance is fleeting, as it will easily live on the skin for six to eight hours, and even more on clothes.
Cow Zoologist is available on the brand's official website as Extrait de Parfum (18%) in a 60 ml bottle and a 10 ml travel bottle for $165 and $45, respectively. 2 ml samples cost $8.
Top notes: Apple and Sage
Middle notes: Milk, Heliotrope, Violet, Lily-of-the-Valley and Jasmine
Base notes: Musk, Benzoin, Vetiver, Cedar and Amber
Original article on : www.fragrantica.com
Zoologist Perfumes website : www.zoologistperfumes.com