by Ida Meister on cafleurebon.com, June 19th 2022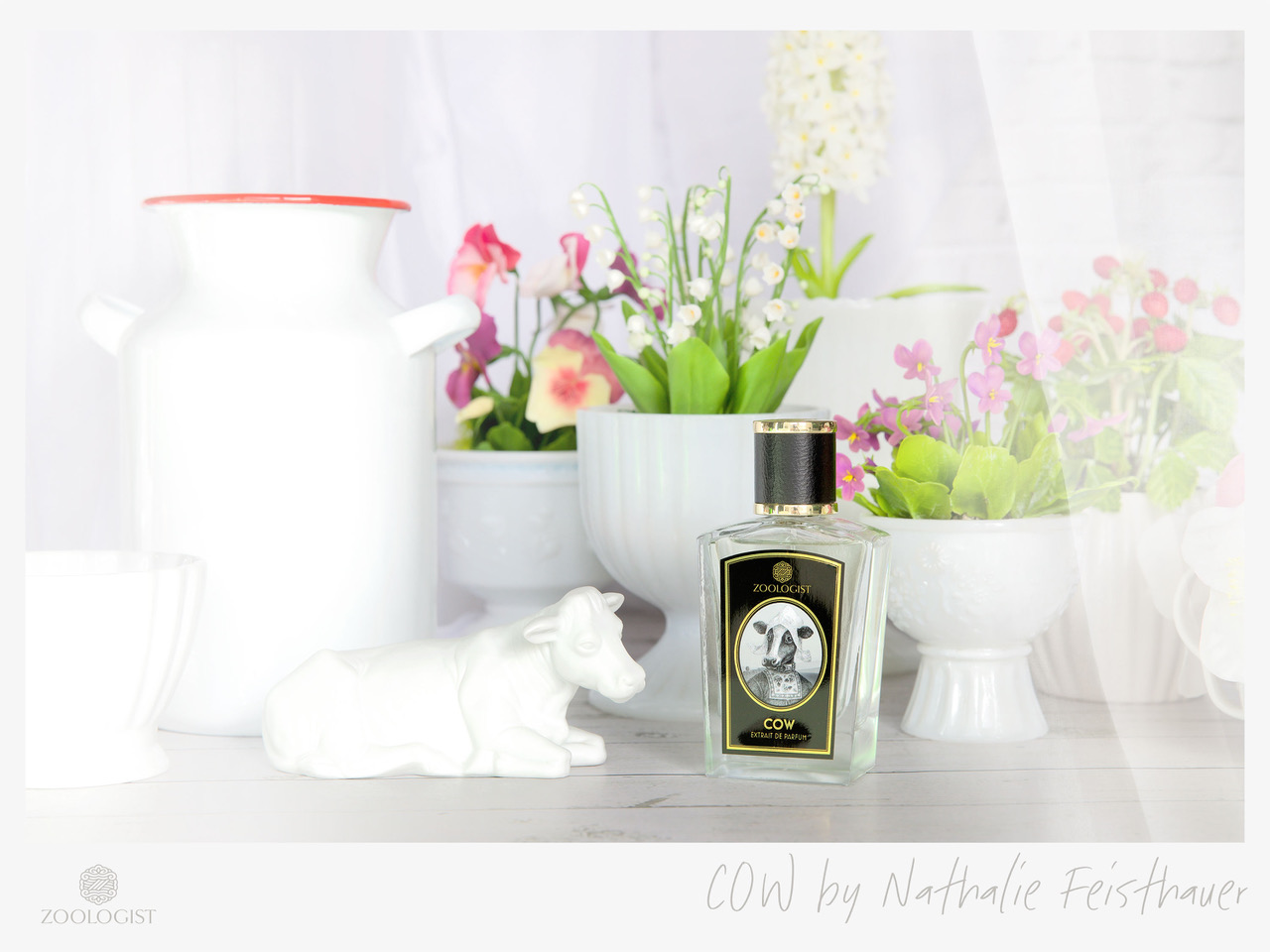 Zoologist Cow photo via Zoologist
Glory be to God for dappled things —
For skies of couple-color as a brinded cow. ~ Pied Beauty, by Gerald Manley Hopkins
Sing-ho for pastoral pleasures! For a dewy dawn rising over the mist-engraved meadow where cows chew their cud, huddling against one another for warmth and camaraderie in their slow, deliberate fashion. I want to have eyes like a Jersey cow: utterly irresistible, immense and moonstruck. To be surrounded by summer clover, wild herbs, grasses and my fellow ruminators.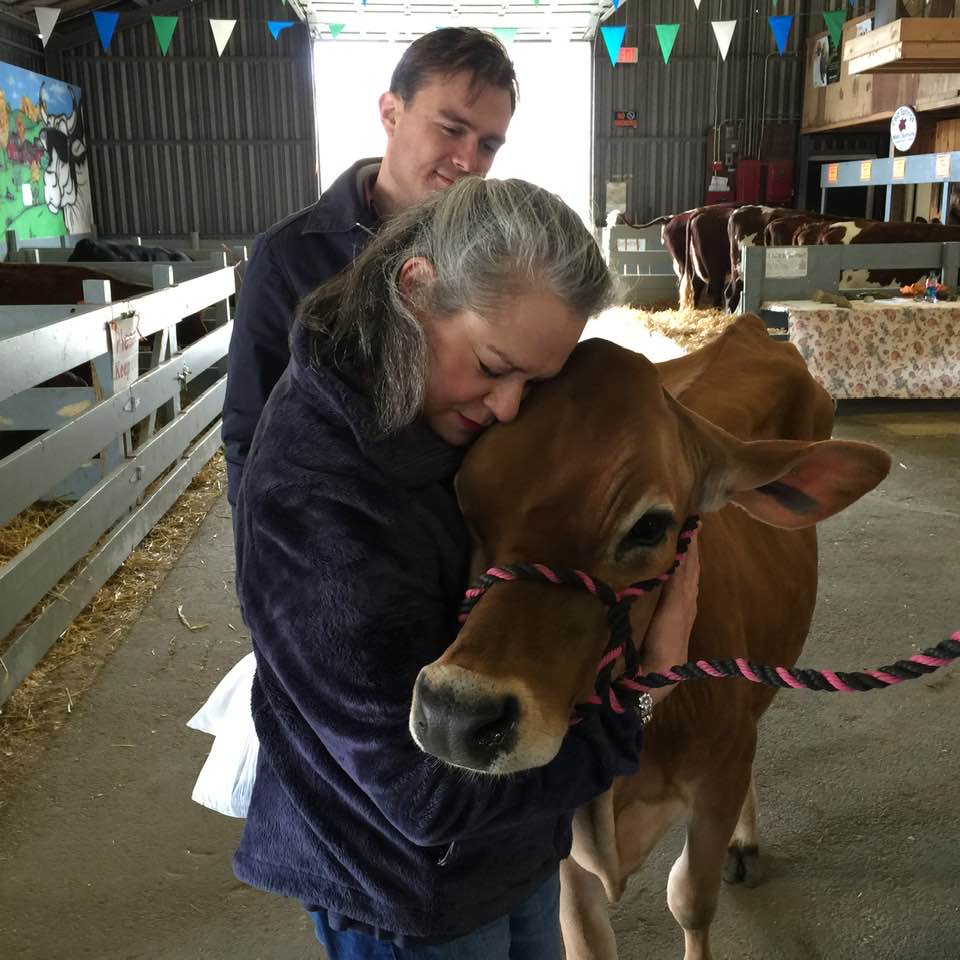 Isaac, Ida and Jersey cow at the Topsfield Fair ©
As a mother, I have already known what it is to nourish my young: the lactonic aroma of sweet mothers' milk becomes part of the aura of breastfed infants. Thanks to award-winning perfumer Mme. Nathalie Feisthauer and her recent Arcadian fragrance for Creative Director Victor Wong of Zoologist, all noses may revel in the comforting veil of Zoologist Cow for its bucolic beauty.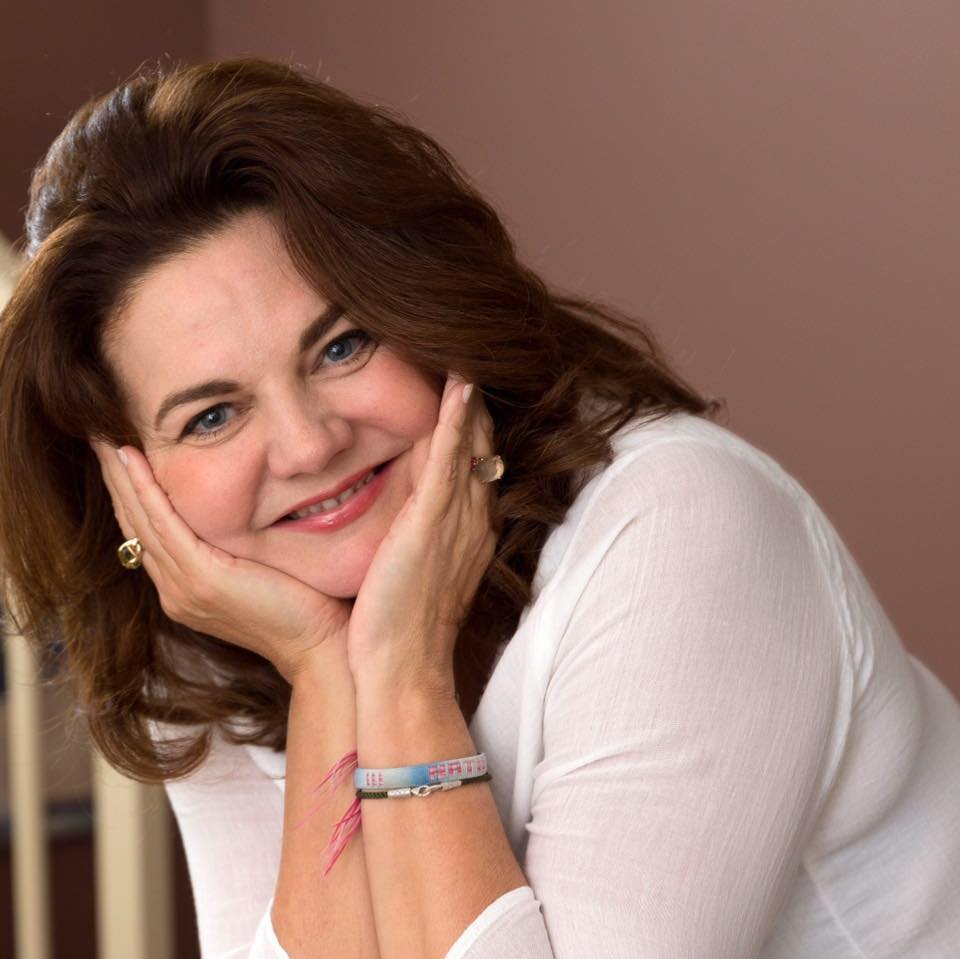 Nathalie Feisthauer courtesy of the Perfumer
Since its release, I've read multiple impressions of Zoologist Cow – which leads me to surmise that it hasn't been well-understood. Many of Victor Wong's previous fragrances have been robust, possessed of considerable sillage and tenacity – so I suspect that perfumistas may have come to anticipate this sort of leitmotiv. Cow is a departure, and to my nose a very welcome and delightful one at that. It presents a perfume of the tenderest sort, a lullaby composed in an orchard. Much like the gentle creatures I love to photograph, Zoologist Cow is a serenade to tranquility.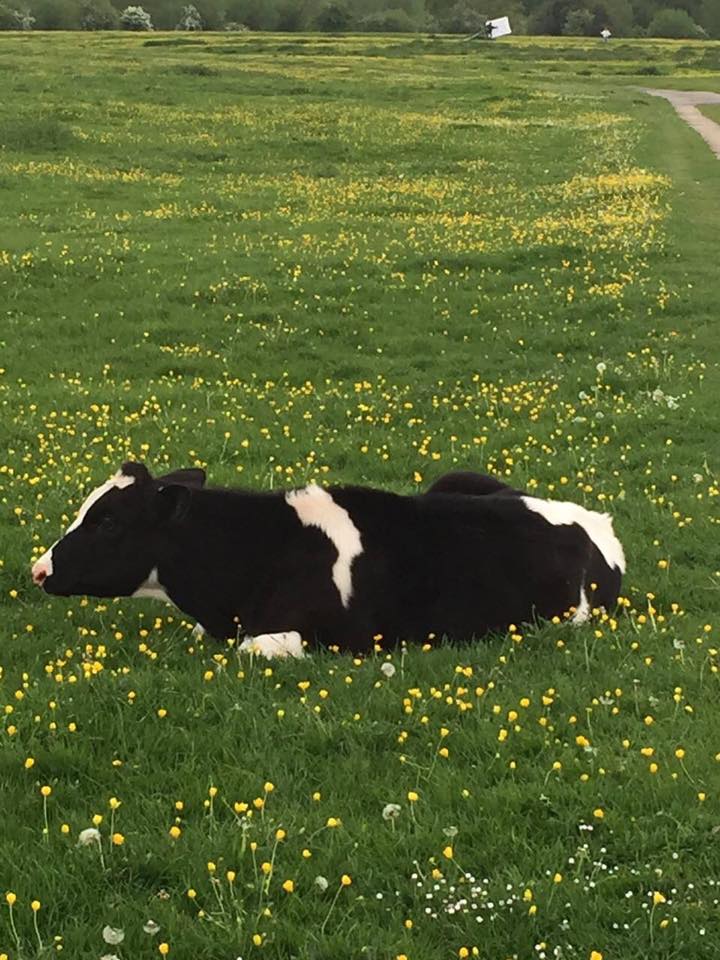 Cow in repose at Portmeadow, Oxford by Jacob©
Zoologist Cow is personal for me. My backstory lies in a single regret: that I didn't take advantage of my opportunity to attend Cornell's veterinary medicine program. I'd dreamed of being a large farm animal vet, not unlike my mother's cousin Hunter, a veterinarian in upstate NY who also kept a herd of Jersey cows. One can be foolish at such a young age, and I couldn't see my way clear to 7 years of study at that time in my life (little did I foresee that I would devote at least as many in the future). The love that I bear bovines continues to follow me throughout the years – and now I have a perfume to evoke the pasture as well.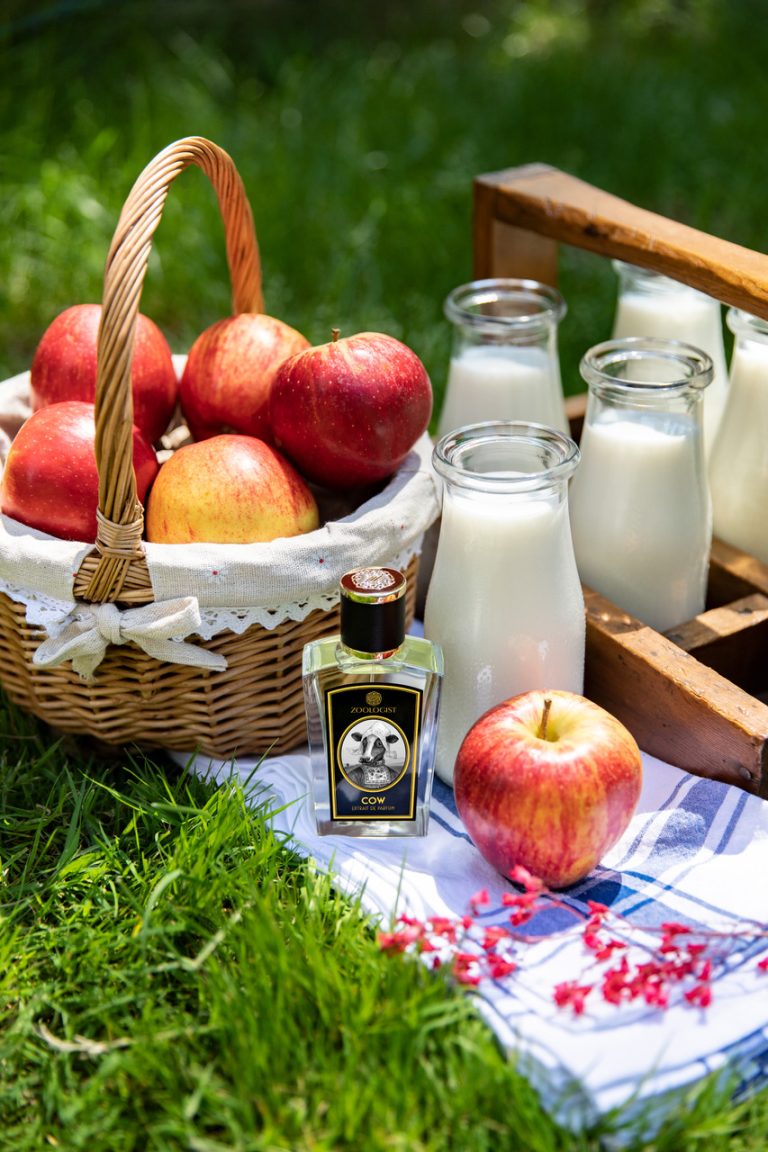 Cow by Zoologist Perfumes courtesy of the brand
The initial spritz of Zoologist Cow beggars belief: it's so grassy, and the employment of sage is brilliantly verdant. A very crisp green apple note comes into play; we're lying in an orchard festooned with blossoms, embodied in the breath of muguet, heliotrope, violet (a verdant violet) and wisps of jasmine.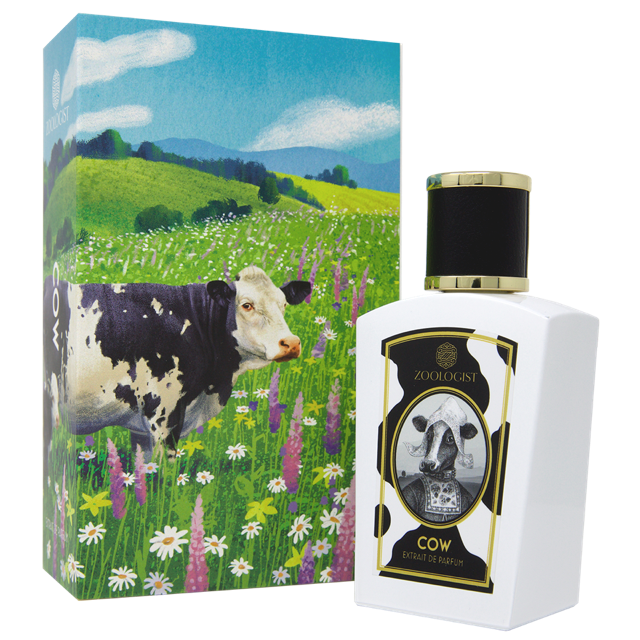 Zoologist Cow special edition photo courtesy of the brand
The lactonic milky nuance is clearly present, but it never overtakes the other elements; it resembles a wooing murmuration instead. Cow's vivid fraîcheur softens rapidly and appreciably in repose, revealing the most pillowy base in which vetiver, musk, benzoin and amber resemble feathers in the wind. A lightness of being. Part of Zoologist Cow's charm is its intimacy: there's no trumpet fanfare. One is required to nestle close to the person it adorns – in the manner of inhaling the warm breath in the barn at milking time. There is peace and restfulness to be had at the push of a button.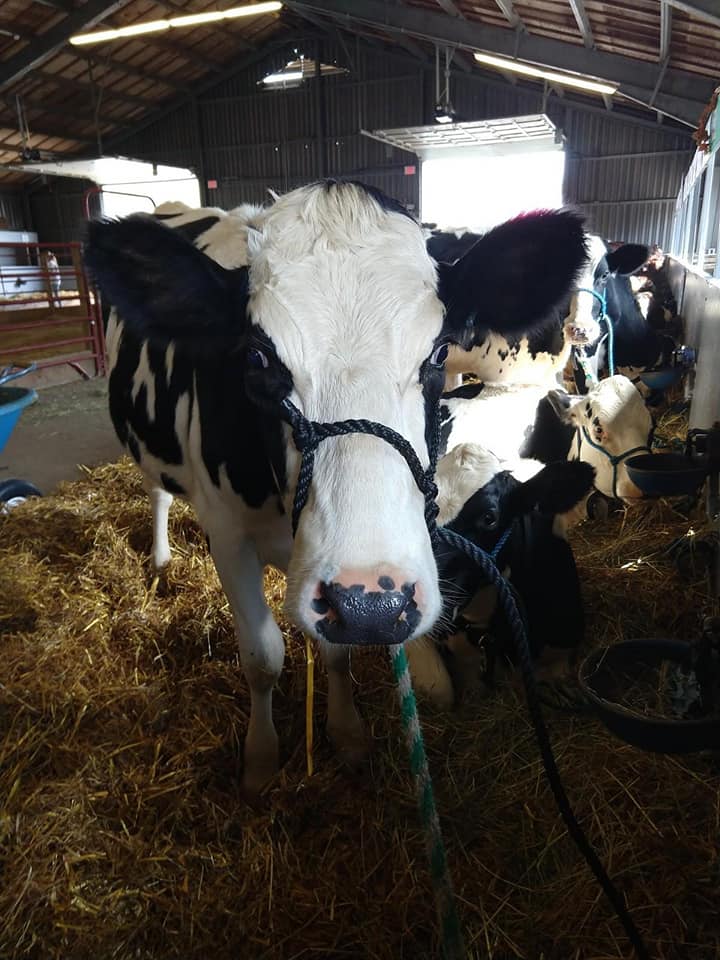 Gertrude at the Topsfield Fair photo by Ida@
I want to be a cow
and not my mother's daughter.
I want to be a cow
and not in love with you.
I want to feel free to feel calm. ~ Cow, by Selima Hill
Notes: sage, apple, milk, lily of the valley, heliotrope, violet, jasmine, cedarwood, vetiver, benzoin, musks, amber
I purchased my bottle of Zoologist Cow. My nose is my own…
~ Ida Meister, Deputy and Natural Perfumery Editor
Original article on : www.cafleurebon.com
Zoologist Perfumes website : www.zoologistperfumes.com