By Ermano Picco on October 31, 2020, reposted from CaFleureBon
A white clearing surrounded by dark trees at dusk, a sense of freedom and awaiting, and a girl wearing palazzo pants in the Hermès iconic orange.  She looks to the sky through a strange flask that dances with glitter like a boule de neige, and sprays the perfume into the air like a shower of gold. Everything brightens -all glitter and gold, and the gloom sparkles in fireworks and awe. That's the mesmerizing imagery of the original 2004 ad for Hermès Eau des Merveilles. It was if a new world  was seen through the eyes of a child; magic only children can do. This sense of freedom and surprise is what surely l'enfant prodige de la mode Jean-Paul Gaultier brought to the house of Hermès when he succeeded to Martin Margiela as a creative director.
After a Modern Masterpiece like the matte,  aloof Hermès Hiris by Olivia Giacobetti, another terrific magnum opus was needed to mark this crucial change in  style. From the very first, Hermès Eau des Merveilles created by Ralf Schwieger and Nathalie Feisthauer in 2004,  surprises with its mesmerizing mineral freshness wavering between hesperidic, spicy and sweet, yet bearing a scintillating dewy petals translucency without being floral, like a ghost of sand lilies and driftwoods from the beach. No one before brought a lip-smacking saltiness empowered by ambroxan and dry woods, Eau des Merveilles made it swirl in the air like golden flakes in a daydream turning so mineral not only into something androgynously sexy, but making it an instant trend. That's why Hermès Eau des Merveilles is a gamechanger and a CaFleureBon Modern Masterpiece.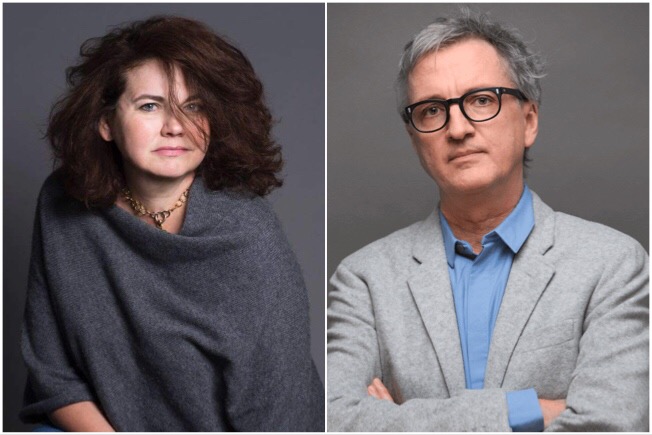 Nathalie Feisthauer of Lab Scent and Ralf Schwieger of MANE
Israeli artist Sigalit Landau has spent many years experimenting with salt in a magic place, the Dead Sea. She says about her sculptures dipped in dead sea water as they emerge, "the sea gives my objects new life". Smelling Eau des Merveilles one can easily imagine the creative duo Feisthauer & Schwieger almost dipping a peppery cologne in hyper-saline waters to give it a new life, to make it marvelous. The unusual pepperiness of elemi, a resin from a tree native to the Philippines also exuding an orange peel fizziness backed by an incensey cold trail, plays the dominant chord in Eau des Merveilles. This cleverly sets a smooth transition from a modern eau de cologne citrus burst to a crystalized ambergris accord, resulting in a sort of inky note (elemi is also commercially used in varnishes, laquers and printing inks) and  through the heart of the composition.
Although slightly sharp at first, this marvelous water develops into salty undercurrent, punctuated by the green coldness of lily of the valley. The base notes radiate through the translucent layers, creating a scent of sand and sunkissed skin, which stays subtle yet notable. The illusion of ambergris with its veil across sacred and mundane is touched by a lush, elusive whisper of hyacinth and smoothed by a good dusting of tonka bean and balsam of Perù tears, caressing and seductive yet never overpowering.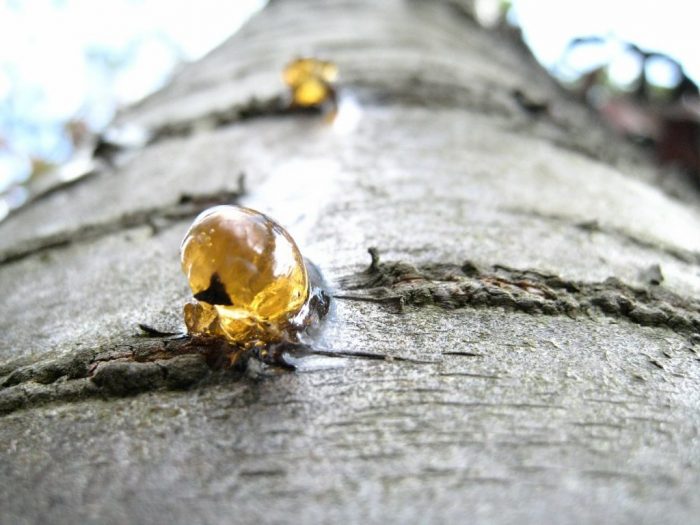 Elemi gum exuding from a Canarium Luzonicum tree pxhere.com
Surely the success of Eau de Merveilles, which is still considered an Hermès classic, was also due to the lovely flacon designed by Serge Mansau. Its design with a double base, together with the glittered orange boule de neige-like glass (Fragile anyone?) was another wink to the irreverent world of Gaultier and made it visually unmistakable on the shelves.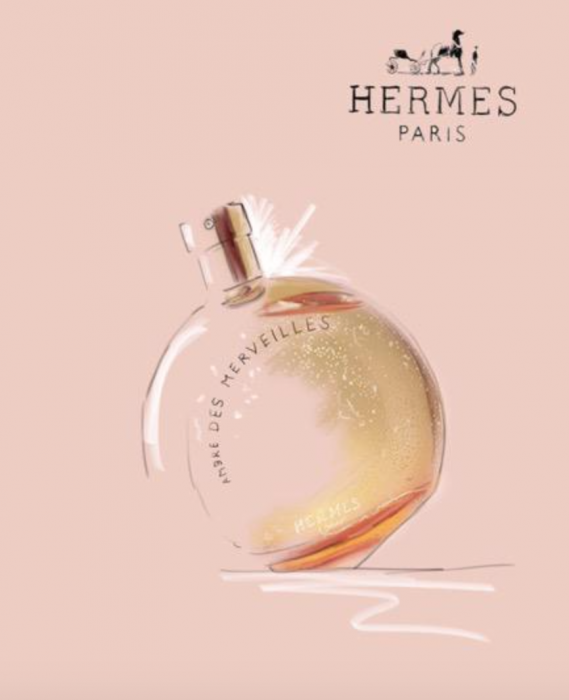 Hermès Eau des Merveilles bottle by Serge Mansau – credits Hermès
Right after the launch of Eau des Merveilles, the house of Hermes appointed Jean-Claude Ellena as inhouse perfumer. This did not prevent various flankers among which the warmer and winey Parfum des Merveilles, debuted in the fall of 2005, is the most successful. While Ambre des Merveilles isn't really a flanker with its powdery vanilla overload, none of the other flankers fell from grace and both Elixir des Merveilles (Jean-Claude Ellena, 2006) with hints of caramel au beurre salé and the spicier anisic chill of Eau des Merveilles Bleue (Christine Nagel, 2017) still stand on their own. On a side note,  last year in Turin, I asked Monsieur Ellena about how conflicting this was with his creative independence and he replied with a sly and satisfied face that "every good marriage has its compromises".

Notes include elemi, bitter orange, Italian lemon, Indonesian pepper, pink pepper, "ambergris accord", oakwood, cedarwood, vetiver, balsam of Peru, benzoin.
Sample from my own collection, opinions as always my own.
 
Find original article on CaFleureBon