By Despina Veneti, Senior Editor, Ca Fleur Bon
Full article on https://www.cafleurebon.com/sous-le-manteau-essence-du-serail-review-nathalie-feisthauer-the-timeless-charm-of-an-odalisque-draw/
A book of 19th century recipes for cures of all sorts is patiently lying around in a Parisian flea market… until it gets picked up by a passionate art lover, curator and magazine editor, who also happens to be the founder/creative director of a young and exciting Perfume House. Eager for her next adventure in fragrance-making, she contacts one of the most talented French perfumers – one who shares her artistic sensibilities, and has recently gone independent. The two ladies have fun cooking up some of the "philtre d'amour" recipes in the book, before deciding to use them as inspiration for their own, present-day fragrant "love potions". This is in brief the charming story of the birth of Sous Le Manteau, launched in 2016 by Olivia Bransbourg (founder/creative director of Attache-Moi fragrances, editor of ICONOfly magazine and former creative director at Takasago). Coherent and captivating, the five fragrances of the House's inaugural collection were composed by perfumer Nathalie Feisthauer of LAB Scent; rich in sumptuous florals, spices, resins and woods, these textural, atmospheric fragrances conjure up vivid sensations of being enveloped by various pleasurable materials: lustrous silk, glossy satin, smooth suede, plush velvet…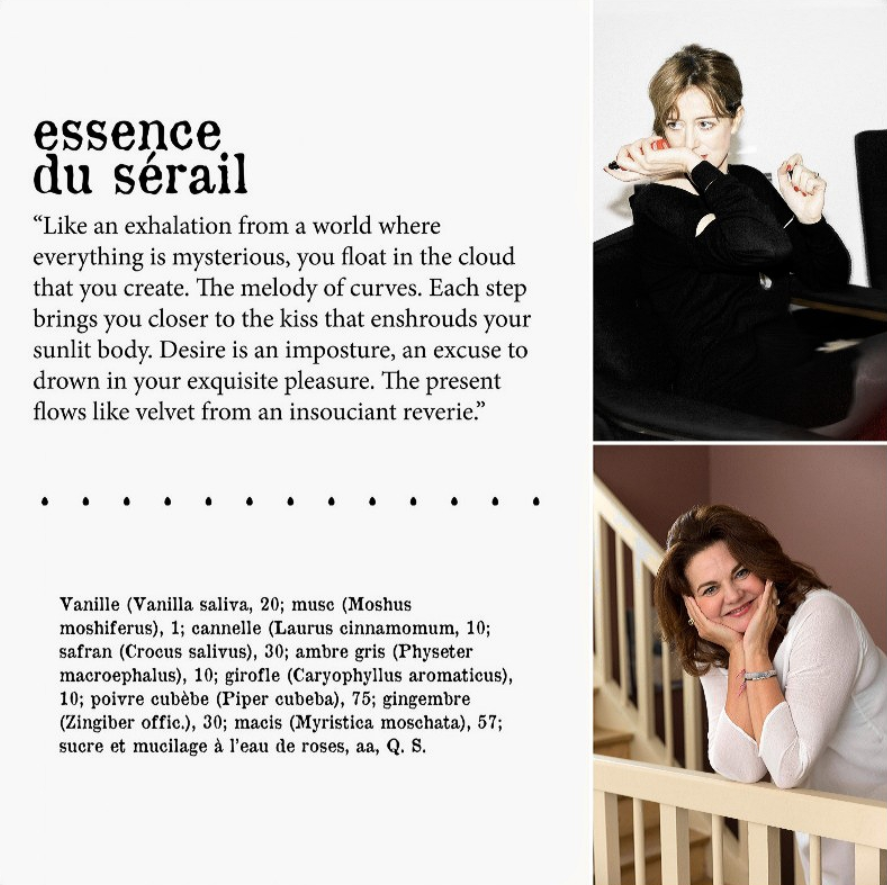 The 19th century recipe of the Essence Du Sérail love potion (courtesy of Sous Le Manteau©), Olivia Bransbourg of Sous Le Manteau (photo by Kanak Guo©) & Nathalie Feisthauer of LAB Scent
Sous Le Manteau Essence Du Sérail is arguably (along with Poudre Impériale) the most unabashedly sensual fragrance of the House's collection, a voluptuous mix of lush florals, succulent fruits, exotic woods and airy musks. Sweet bergamot oil shines at the top, announcing a radiant, intoxicating white/yellow bouquet of tuberose, jasmine, ylang-ylang and orange blossom, whose intriguing fresh/green undercurrent is supported by muguet and rose accents. Like in a classic nature morte painting, fruits are strategically positioned around the flowers: plums and peaches at their seasonal prime, just ripe enough to eat. Generous lashings of vanilla surround the cornucopia of fruits and flowers with an ambrosial halo, reinforced by the almondy powederiness of heliotrope and the creaminess of sandalwood. I find the latter to be a key element of the composition, taming the exuberant florals, while preventing the fruity/vanillic dimension of the fragrance from ever becoming cloying, or sticky-sweet.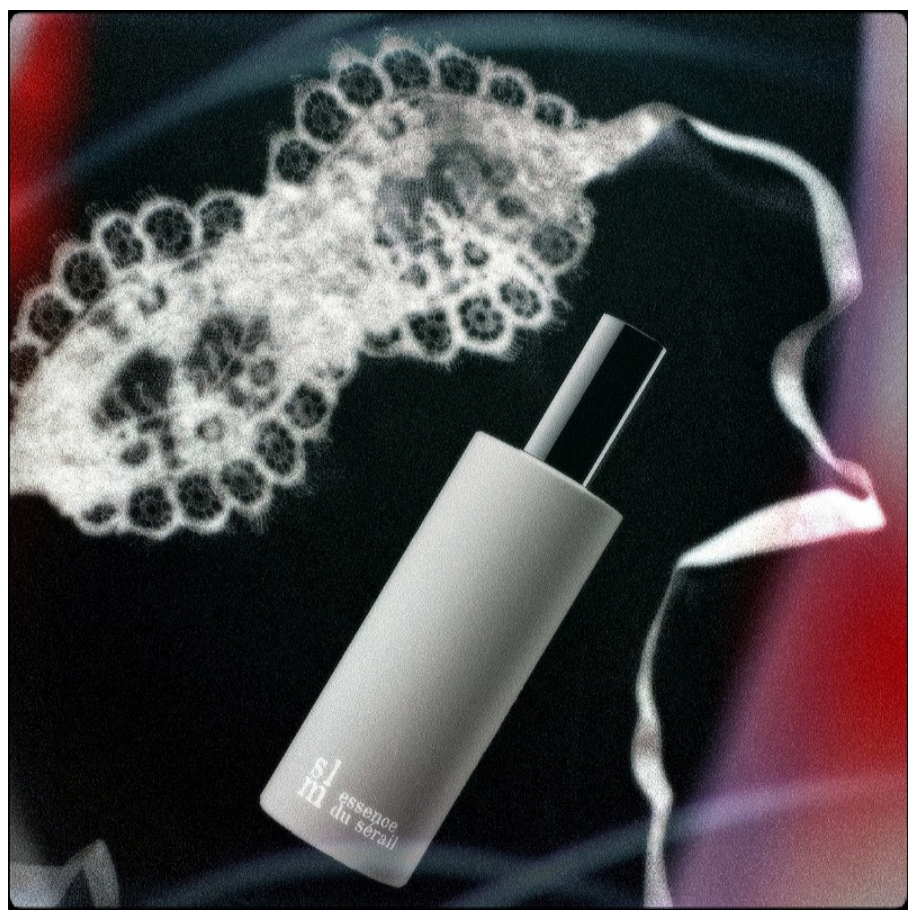 Sous Le Manteau Essence Du Sérail (photo composition/digital editing by Despina Veneti©)
Equally important to the fragrance's balance is the ambrette, whose vegetal muskiness provides an ethereal, delicate quality to the base. Slowly but steadily, the tuberose emerges as the perfume's ultimate star; its interaction with the musky, vanillic woods makes for a suave white floral that is as stunning on gentlemen, as it is on ladies. Tactilely and texturally, Sous Le Manteau Essence Du Sérail gave me the sense of wearing a soft cashmere cardigan over a gleaming satin négligée, in a half-dark bedroom filled with suspended, tiny powder particles – visible only against the beaming sunlight. Like cracking a window in a dressing room laden with aromas of perfumes, cosmetics and flower bouquets, Mme Feisthauer managed to breathe fresh air into the concept of "boudoir scent", making Sous Le Manteau Essence Du Sérail easily wearable at any time of the day.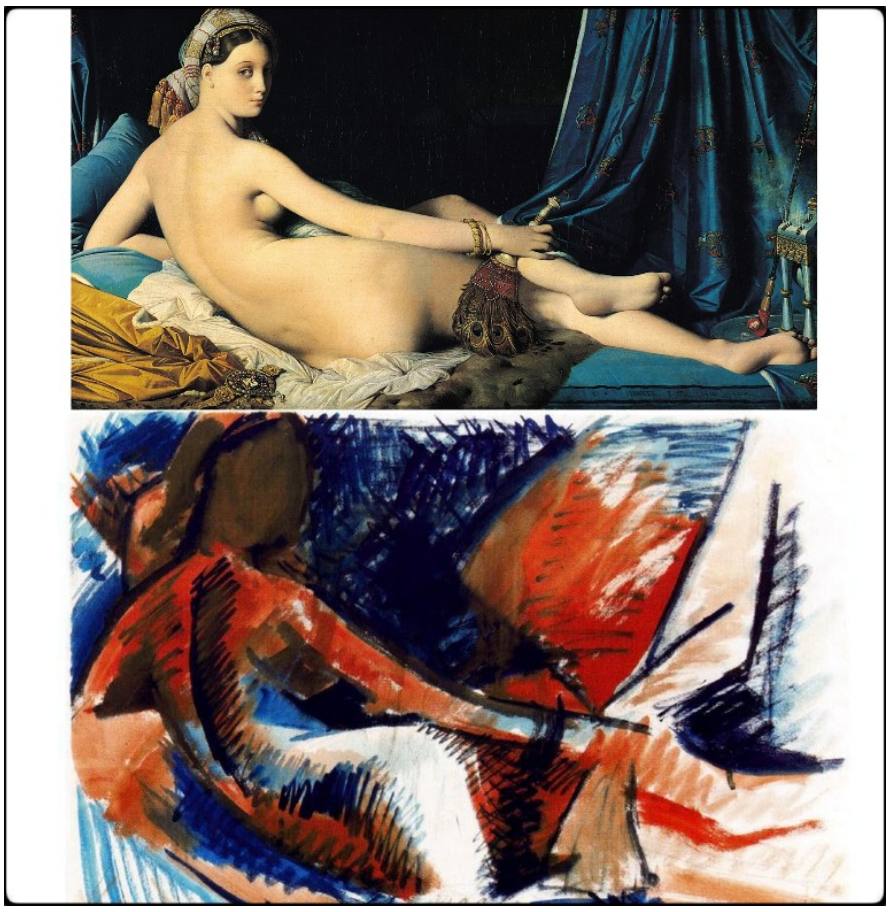 Jean-Auguste-Dominique Ingres's "La Grande Odalisque", 1814 (Musée du Louvre©, Paris) and Pablo Picasso's "La Grande Odalisque d'après Ingres", 1907 (Musée Picasso©, Paris)
When my encounter with a new perfume elicits instant fascination, I tend to associate it with favorite works of art. In the case of Sous Le Manteau Essence Du Sérail, my mind at once flew to Ingres's splendid "La Grande Odalisque", which bridged Orientalism, Neoclassicism and Romanticism fueled by the painter's imaginary notion of a mesmerizing seraglio chambermaid. I find that this alluring scent captures the distilled essence of centuries of Western-born erotic fantasies of the "Orient" – idealised visions of harem concubines indulging in delicious fruits and lokums, while taking a bath amidst floating flowers… At the same time, the fragrance's decidedly contemporary character made me think of Picasso's own homage to Ingres's masterpiece almost a century later: the subject – this time given form by bold colors and dynamic brushstrokes – looks both unrecognisable and familiar. In the end, doesn't a novel approach to a past idea serve as a supreme confirmation of the latter's timeless appeal? Apropos of that, Sous Le Manteau Essence Du Sérail seems to recount perennial olfactive legends of sensuousness with a clin d'œil: fully aware of their mythical quality, it lovingly evokes them without failing to be current. A sound basis for any fragrant tale that aims to remain relevant in the years to come.
Notes: Bergamot, Ylang-Ylang; Orange Blossom, Peach, Plum, Jasmine, Rose, Lily-of-the-Valley, Heliotrope; Vanilla, Ambrette, Sandalwood.
Disclaimer: I'd like to thank Sous Le Manteau and Olivia Bransbourg for my travel spray of Essence Du Sérail. The opinions are my own.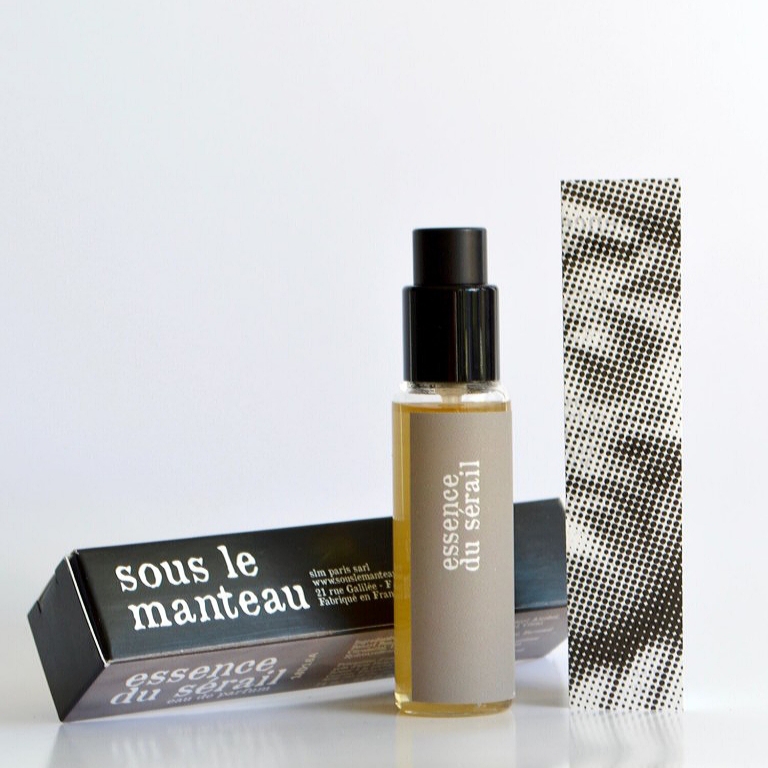 Sous Le Manteau Essence Du Sérail 14ml travel spray (photo courtesy of Sous Le Manteau)©
Thanks to the generosity of Sous Le Manteau, we have a draw for a 14ml travel spray of Sous Le Manteau Essence Du Sérail for one registered reader in USA, EU or UK. You must register here or your comment will not count. To be eligible, please leave a comment saying what you enjoyed most about Despina's review, if you have a favorite Sous Le Manteau fragrance, and where you live. Draw closes 3/9/2021
Sous Le Manteau was the recipient of The Fragrance Foundation UK "Newcomer of the Year"Award 2020
Follow us on Instagram: @cafleurebon @despinavnt @souslemanteauparis @nathaliefeisthauer @nathalie_feisthauer_parfumeur
We announce the winners only on our site and on our Facebook page, so like Çafleurebon and use our blog feed… or your dream prize will be just spilled perfume