Maison Crivelli is a novel proposition for most perfume lovers, but one which I predict will get their attention very quickly. Situated at rue Saint Honoré, a posh district in Paris, it is comprised of a local atelier of a skilled entrepreneur, with the soul of a botanist, Thibeau Crivelli. Their motto? "Slow Perfume." I was intrigued!
Τhe proposition of Maison Crivelli lies in a novel and fascinating conjunction: Thibeau Crivelli, the founder, is both someone immersed in the botanical sense of perfumery, thanks to his background working in Asia for more than a decade, and someone with a solid marketing background in working for one of the top three major perfume houses. I won't reveal which, but it's not hard to guess, given the extraordinary lengths to which such companies go in order to secure the most exclusive terroirs and pacts with local producers. 
This all culminates into a different approach to scent experiencing, which is at the heart of the brand, but you will have to keep on reading to find out (and it's really worth it, as I'm revealing the breakdown of the experience of their newest one later on). First we need to put the brand onto some background.
"How did it all begin?" I asked Mr. Crivelli.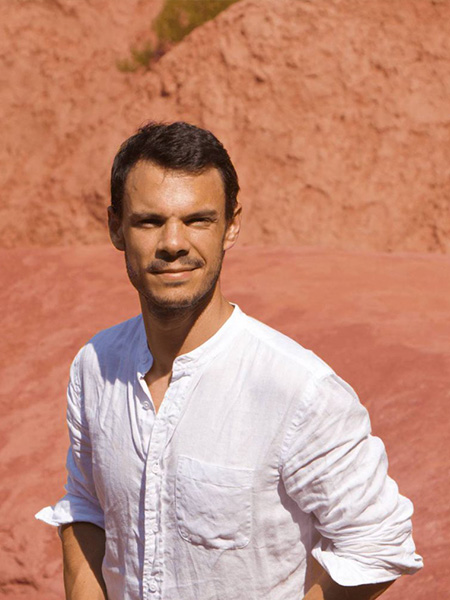 "My family came to France from Italy during the Renaissance, and we found our roots in French soil. But the traveling never went away, as inquisitiveness and work led me from Monaco to Lebanon, to Australia and the Indian Ocean," Mr. Crivelli explains. 
From Lebanon to Australia, and from Morocco to Vietnam via the Indian Ocean, the three generations that preceded Thibaud lived on five continents and have passed on an eclectic legacy that has sharpened his taste for exploration.
---
THE RAW MATERIALS PRODUCTION: ETHICAL CONCERNS
Indeed Thibeau comes across as someone who loves perfume exploring and raw materials manufacturing, with long tenures in Indonesia, Sri Lanka, and China. Maybe this is what prompted the pillars of the concept at Maison Crevelli: A brand that is immersed in "slow life," integrity, respect for nature, and innovation. Thibeau Crivelli explained to me, "The products are all phthalate-free, colorant-free (which makes all the fragrances devoid of artificial coloring, the way we know from major department store designer fragrances), as well as packaged in an eco-friendly manner." 
Upon further questioning on how the brand came to be, Crivelli clarifies, "Being in touch with the environment, when I created my own brand I was looking for something eco-friendly, transparent, with no colorants, as added color orientates the customer, as I knew from my experience from working with major brands. I also, from the same reason, chose to have all my boxes in white. However, inside the box, there is an added color, terracotta to be exact, which gives a warm, inviting and quite natural finish to the look of the product. It also makes unpacking quite an experience, as it comes quite as an unexpected little touch, an a-ha! moment. The boxes are indeed all hand-made, with no plastic; instead we use a costly artwork paper coming from Italy. The wood used is recyclable, too, adhering to the core value of respect for nature and slow life."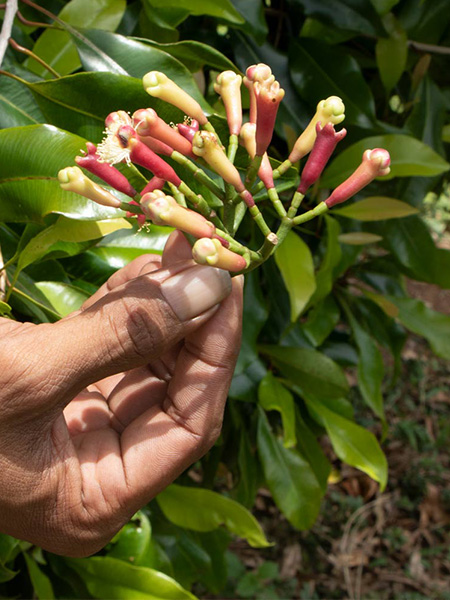 The natural raw materials used come from identified plantations that have been carefully selected. Certain raw materials are harvested according to a sustainable development policy. The Maison Crivelli supply network continually evolves in order to maintain a constant level of quality.
This also prompted several projects which give back to the community, another highlight of the innovative points in the Maison Crivelli brand. For instance, the brand is a sponsor in a local charity for the ethical and sustainable production of patchouli and vetiver in Indonesia, under the aegis of Coeur de Forêt (Heart of the Forest). The brand participates in the sustainable development of patchouli in Indonesia. For every purchase of a 30ml or 100ml fragrance, you will finance the production of, respectively, one or three sustainable patchouli cuttings. This genuine partnership has a truly positive impact.
Similar charities and projects, concerning geranium plantations in the Indian Ocean and cultuvation of vetiver roots in Haiti, are also close at heart with Thibeau. 
---
A NEW WAY TO EXPERIENCE FRAGRANCE
What prompted the following question has to do with my inquisitiveness on what makes Crivelli different than most niche brands. Most niche brands say they offer something different from all of the others, but in a world with thousands of niche perfume brands nowadays, how often is this realistic? Thibeau indeed surprised me, and his approach fascinated me into wanting to explore the brand further. 
"We advocate a different approach. Brands are very focused in their DNA, on what you experience as "notes" on ingredients. But we propose a more personal experience of sensing fragrance. It started from unique moments while traveling, experiencing phenomena which were extraordinary. We were inspired by location, certainly, but we offer a living experience, a new way to experience, to live through, to smell differently. To engage more senses."
Maison Crivelli focuses on surprise and in a sensorial way which involves a mix of the senses. One olfactory experience mixes all of that into a synergy of stimuli which galvanizes the entirety of our senses. It's not too alienated from our personal experience when testing out fragrances, bringing in our personal touches; for instance, when the environment changes, be it weather or hormones, so does the experiment!
For Maison Crevelli the experience begins right at the top, with the new blotter concept.
Thanks to seriegraphie, as you spray fragrance, a picture appears on the blotter! These magic blotters stimulate the visual alongside the olfactory, making new connections that go beyond the images of advertising; it's an experience similar to the unpacking of the box. The latter is also ingrained in the philosophy of the brand. As the white uniform box opens, the customer experiences a hidden panel of terracotta inside the box, imparting a connection with something earthier and more artisanal. 
But vision is a saturated sense, especially in the contemporary world of social media. Therefore, the presentation of the brand through media is carefully approached to mix the senses, Thibeau calls it "agiter les senses," i.e. to shake the senses, to surprise them in a way. The headlines of the products are woven into a story which involves melodious sounds and an elemental taste, mixing pictures with video and words, in order to present a holistic approach that does not fixate on given notes, but aims at waking up a feeling.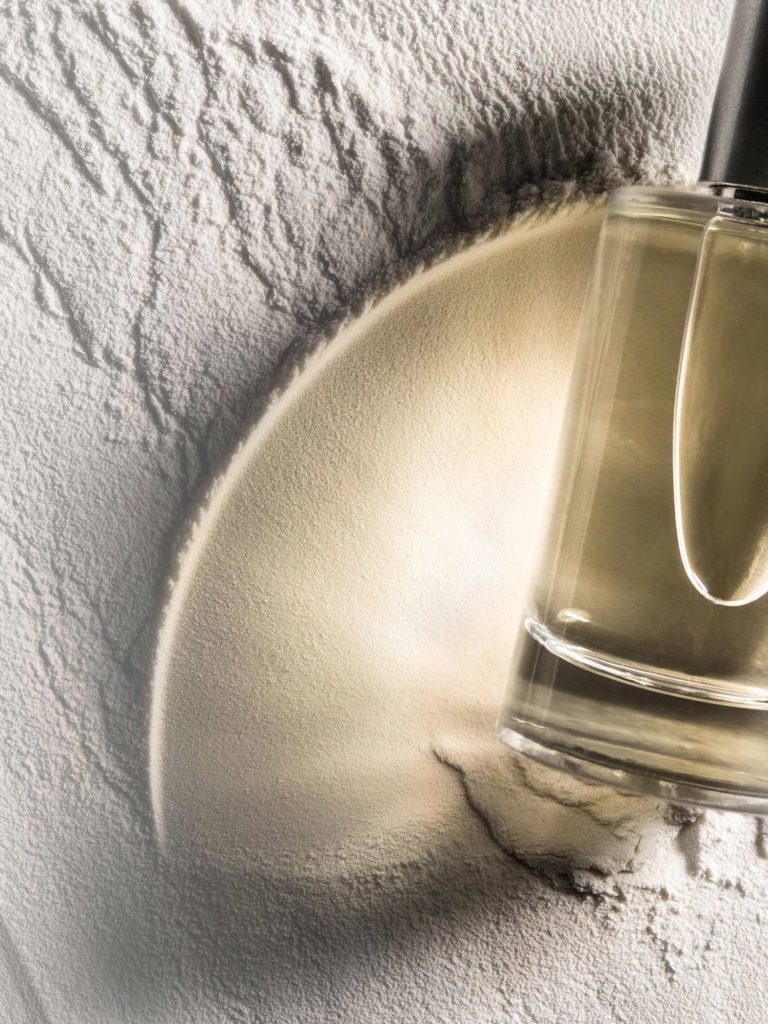 The lack of a typical "notes focused" approach makes the nose education offered by the tools in use much appreciated. At Le Bon Marché, where Maison Crivelli now has a central presentation booth, there is a new tool, an application which is usable on tablets, guiding one through the scents. The application that Crivelli offers ties the two worlds, as we smell and enter the app. By clicking on the name and the woodboard, we are presented with words and pictures that evoke sensation. This is what Thibeau calls expériences olfactives, i.e. olfactory experiences. 
 
Sensorial explorations, unexpected adventures. Unplanned movements, contrasting encounters. Nature, liberty, authenticity. Surprising sounds, tastes, scents and textures. Careful selections, innovative associations: four creations, four revelations. Your own experience: discover, smell, feel and share.
#maisoncrivelli

By calling on all of the senses and offering an innovative exploration of fragrance, Maison Crivelli's ambition is to surprise each of us and enable us to finally understand how and why perfume is so captivating. Take a moment and go back to the essentials for a sensorial and personal interpretation of perfume, in what promises to be a revelation.
Therefore, you're never "wrong" in how you approach a fragrance from the house; you just experience it in your own sweet way!
---
THE PERFUMES AND THE PERFUMERS
For Maison Crivelli, perfume is then the work of magicians who master both the science and rigor of composition, as well as the artistic creativity needed to perfectly transcribe the proposed experiences. During his explorations, Thibaud Crivelli has met diverse professionals, motivated by their love of perfume and of nature in all of its beauty, and he has brought them together to form a Circle. His aim is to create a spontaneous, unusual, and strong rapport with all of the people involved in the project, who are recognized and valued for their expertise and contribution. The origin of each fragrance lies in a very unexpected discovery of a fragrance raw material. For instance, the discovery of burnt sandalwood on the slopes of an erupting volcano, as for Santal Volcanique, or the discovery of rose on the seaside, for Rose Saltifolia. Thibaud Crivelli selected the most memorable experiences and translated them into modern, contrasting, and surprising creations.
Thibaud Crivelli chose to work with different perfumers, namely Nathalie Feisthauer, Dorothée Piot, Bertrand Duchaufour, Stéphanie Bakouche, and Richard Ibanez.
Each of these encounters was remarkable, leading to collaborations based on instinct and emotion. It is not simply a meeting of two minds, but also the convergence of a brand signature and a specific composition style. Thibeau explained to me that there were ten perfumers who were originally approached and from those ten, just five were selected in the end to pursue a project that would set their hearts aflutter. 
"The Maison Crivelli Circle also brings together Guides (perfume advisors), who orient and accompany clients on a perfume revelation. This Circle is then a rich and varied community, of which clients are an integral part, as they actively participate in fragrance discovery," explains Mr. Crivelli.
I asked Thibeau how he'd describe the signature style of the creations. He answered with one potent word: CONTRAST! 
For example for Rose Saltifolia, created by Stéphanie Bakouche, a very cool, crystalline rose is set off with fresh notes. Most of us recall fresh notes from the aquatics of the 1990s with lots of the ingredient calone, which brings on a melon-like, watery note. But here the rose is piqued with pink pepper and gains a salty tinge that recalls a rose garden with pink flamingoes, sprayed by the sea breeze. Grasse, after all, whence the best of May roses come, is next to the sea…
In Fleur Diamantine by Bertrand Duchaufour, Thibeau offers "floral levitation, crumpled mint, iced saffron. Suspended time. Mellow white paradise: a neroli descant, whispering, iridescent jasmine. A wall of fresh moss, fluttering corollas, a feathery sheen." 
The newest fragrance by Nathalie Feisthauer, Absinthe Boréale (2019), took its wings from the garden atop her lab, which is bursting with herbs!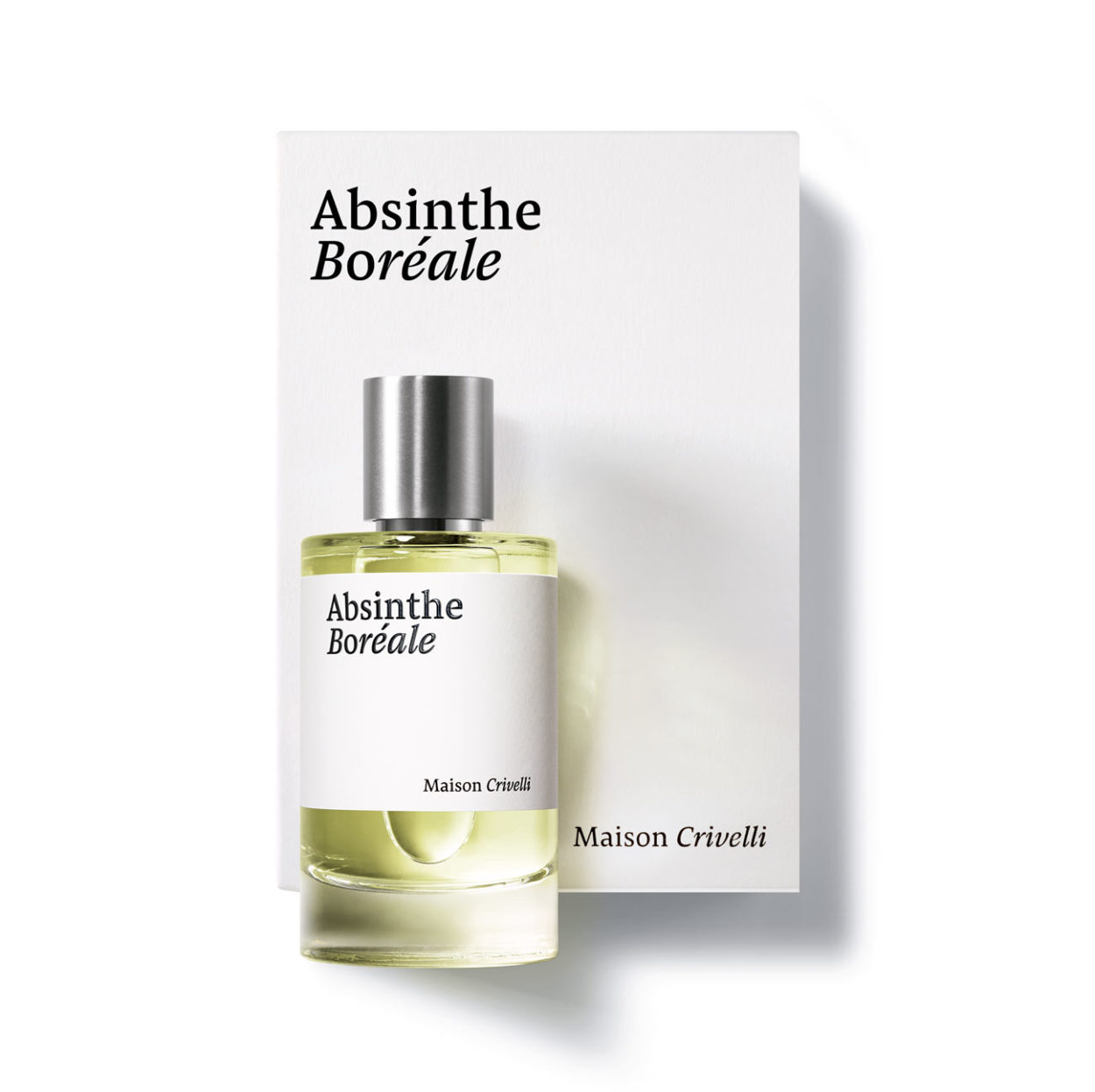 The cooling, abstract, and vivid feeling of the fragrance is beautifully translated into images and words online in the Maison Crivelli site. 
I get will-of-the-wisp, crunching snow, followed by the sound bite of rubber galoshes in the snow, accompanying wide driven tracks on a white canvas. Right next to it, the descriptor cozy shelter (in its way, surprisingly antithetical to the ringing cold of a snowy landscape), which is swiftly followed by the image of a lit-from-within igloo! The words phosphorescent absinthe appear on the screen before an image of acid green tumblers appears with lively chatting from people in the background. Then I get Underwood lemons: palpitations. I see a wedge of lemon standing atop crystal-topped evergreens. The evocations do not stop: Sweet resin appears on my screen, and a drop of it is viewed in the next image, while polar fern is predictably accompanied by a snow-capped fern leaf. More words: Milky lavender, mild geyser, and a twig of purple lavender, immaculate fur with the picture of a white furry puppy; a hypnotic and verdant whisper is last but not least, followed by the image of Aurora Borealis and the odd magnetic resonance of what I imagine is a landscape at the utmost north. 
---
All of the fragrances come in an Eau de Parfum concentration, in uniform, austere-looking bottles with sleek contours, without colorant in the liquid inside, and solely the name and brand name on the uniform white label.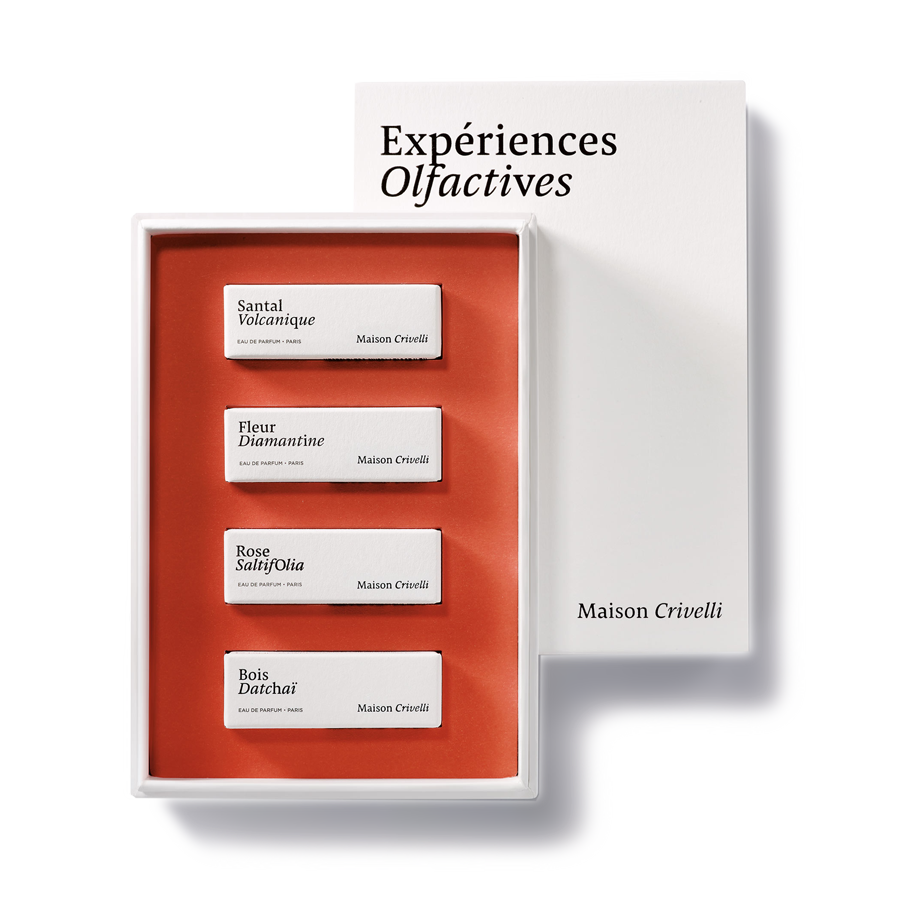 Currently the fragrances are available at Le Bon Marché in Paris (Rive Gauche), who is an official distributor; at Skins Cosmetics in the Netherlands; at Parfumerie Theodora in Geneva, Switzerland; at Neroli Perfumery in Hungary; and Skinlife Chiado in Portugal. Thibeau also intimated on plans of expansion to other countries and to well-known stores, but I'm sworn to secrecy until they materialize. Sorry, folks…soon!
In the meantime, you can visit the very pleasantly and user-friendly designed e-shop of Maison Crivelli, as well as find more information on the official Maison Crivelli site. The e-shop offers two free samples for all orders including a 100ml Eau de Parfum, as well as free standard delivery for orders above 50 euros. When you purchase the Discovery Box, four fragrance samples of 1.5ml of your choice and a complimentary 24 euro gift voucher is given for the next order of 100ml perfume.