In many sides of the World, the darkness officially operates at some points of the day, due to shorter days or just some random substantial decrease of luminosity… For that reason, people need more brightness! The candles is a solution for those searching for natural light, and sometimes they may be provided with smart fragrances, always with a recommended first burning time of 2 hours to shape the wax… That's the proposition of several French manufactures, with some of them focusing on organic raw material and sustainable candles, naturally made in France. A country where a part of the story of candle started… Indeed, in the 17th century, wax was the object of all the attentions, since it was carefully collected from the hive, before being bleached by the repeated action of water, during the cleaning phase. Finally, its final white color was acquired, once wax was dried in the open air, lightened by the natural action of the sun's rays.
Therefore, we're pleased to introduce you here Bona Fide introducing its avant-garde collection, before diving into Clæpsidra, and its premium porcelain jar, before an overview of classical brands Diptyque and Durance that display their own selection, also in their own stores. In an other hand, Melchior & Balthazar, two of the Magi, wish to share their souvenirs from their oriental trips, through a selection of fine and precious candles! Furthermore, we get into a wooden flavor, within the limited-edition cypress candle developed by the Carrière Frères, a brother structure to Trudon, the oldest wax-maker from France… By Alex Plato
---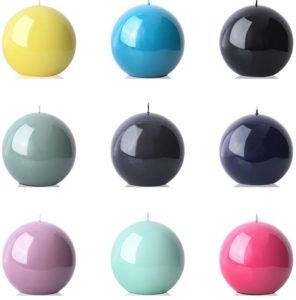 First of all, don't miss the first candle collection of Bona Fide. This new flame recently born from the warm impulse of the inventive spirit of Sarah Cami, who had the chance to travel a lot and to find a real inspiration through this way of life. With this new adventure, this epicurean lady developed a cosy, colorful and delicately scented universe, for all the aesthetes, cautious of their lifestyle. 
After a successful path in the luxury industry (and notably an experience of 10 years in Hong-Kong), where she notably learned the codes of this domain, she decided to start her own project. Therefore, she decided to exploit the power of scents, through a selection of olfactory candles able to decorate your interior.  
Baptized Bona Fide as a real pledge of authenticity for these multiple artistic collaborations which tend to showcase the know-how of some skilled artists. Indeed, the Bona Fide concept was made to generate encounters between a design made in Montmartre and the manufacture of the fragrances used in the candles, in Grasse. Internationally renown as the capital of perfumery since the 17th century, this floral city remains nowadays a reference in the creation of premium and natural essences.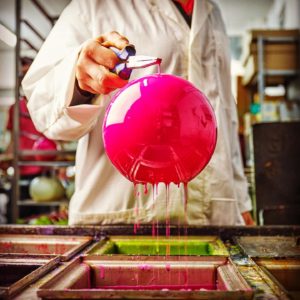 And in this case, these perfumes were imagined by Nathalie Feisthauer, a famous master perfumer who was behind the birth of a couple of best-sellers. Thus, she granted the privilege to develop a set of exclusive perfumes, only for Bona Fide, while respecting traditions. For your information, each fragrance wears a distinct wax color, creating some kind of a wonderful scented rainbow.
Adding to this, Sarah Cami wished to consider her candles as genuine decorative objects. That's why she paid many efforts to associate with an acclaimed family of wax makers located since 200 years around Paris and an ancestral Limoges porcelain factory. Therefore, Artoria was created in 1854, but eventually acquired a certain notoriety in the 1920s, pioneering the first hand decorations on raw Limoges porcelain enamel. This timeless know-how lately lead to the obtention of the prestigious Entreprise du Patrimoine Vivant label. This important recognition has been offering many opportunities to Artoria, as benchmarks and collaborations for a lot of luxury houses, museums and designers.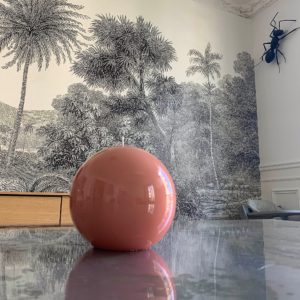 As far as we know, this community cohesion achieved to translate the personal desire of the founder, in order to share her memories from faraway and muchly inspired by the style initiated by popular artists, such as Miro, Calder, Rodin, Yves Klein or even Dali (photo credits: Bona Fide).
The result is a sparkling collection of two main types of candles. At first sight, Les Parfaites series is the quintessence of refinement and design, since these elegant lacquered candles are molded like wax cakes and hold a perfect spherical shape, ready to amaze your guests.
Named after some best friends of Sarah Cami, each of these avant-garde candles are cautiously handmade. Furthermore, after being immersed in color and lacquered bathes, these oddities needed a rest of 6 days, so that they could fit their hypnotic robes full of countless reflects, and get ready to enlight your wake for a hundred of hours (for a weight of 1kg5).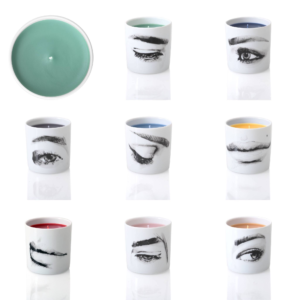 Otherwise, if you're more into perfuming your home with precious elixirs, why don't you opt for one of the 8 editions of the scented candles called Les Parfumées?
Decorated by a series depicting six types of eyes expressions and two mouths, each drawing representing a specific woman's character trait, illustrated by Armelle Tissier. Of course, each one conveys a different fragrance, conceived with the support of the talented nose Nathalie Feisthauer (pictured upon), you would be surely seduced by selecting one of these bewitching perfumes, related to your personality. 
On top of that, these masterpieces magnify the beauty of the Artoria quality, allowing each ceramic pot to be reusable and potentially becoming a container again, thanks to the various available candle refills to order online. Last but not least, this timeless tableware object can last about 60 hours (for a weight of 200g).
More information on the official website.
…