by Sergey Borisov, 05/11/21 on Fragrantica (see full article on fragrantica.com)
Perfume brand Burdin Paris is one of those French houses that has a glorious history interrupted by various circumstances, and restarted in the 21st century (among other examples: Le Galion, Violet, Jovoy, Isabey, Jacques Fath). As in the case of Volnay and Godet, the rebirth of Burdin Paris is being carried out by the descendants — Christine, Edouard and Ingrid — of the founder of the company, Stephane Burdin.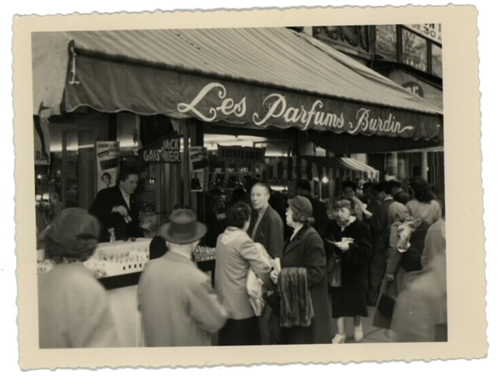 The first three Burdin Paris fragrances were designed for women and form the Gold Collection: Tinoutcha, Paris Minuit, and Les Beaux Jours. They were launched in 2014 and signed by perfumer Veronique Nyberg (Mane et Fils).
In May 2021, Burdin Paris announced the release of a new feminine perfume, Emmène-Moi, in the Golden Collection, and a new masculine Platinum Collection of three fragrances, namely Amoroso, Sans Témoin, and En Garde! All four new perfumes were created by independent perfumer Nathalie Feisthauer under art-direction of Christine Burdin.
Emmène-Moi, or A Luminous Ode to Romanticism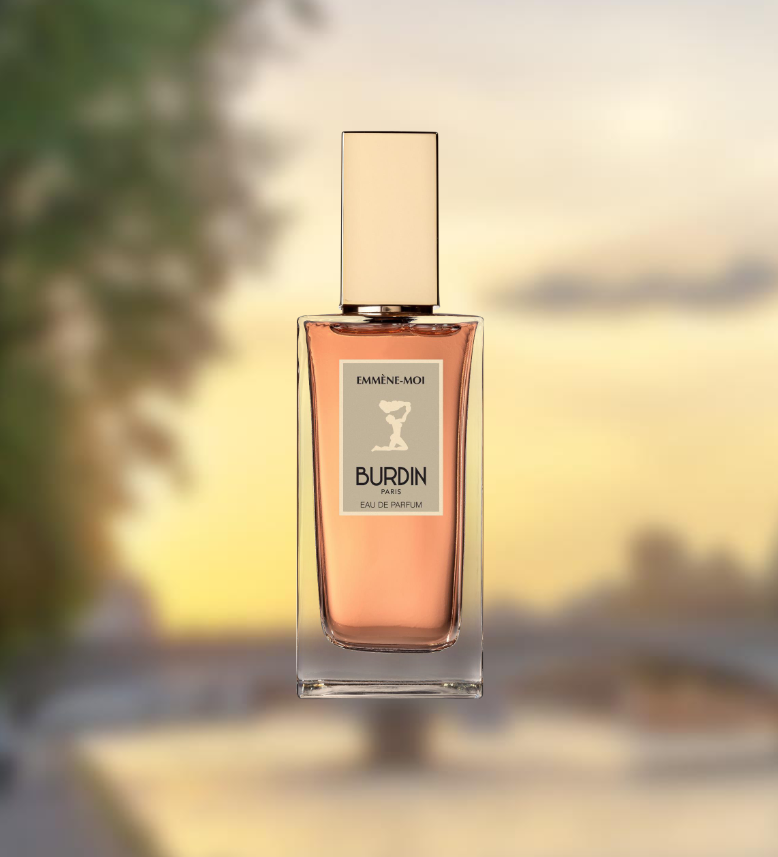 Drawing inspiration from the romantic scene created by the first rays of spring sunshine bathing the banks of the river Seine, Emmène-Moi is a true poetic odyssey. From the gates of the Tuileries Palace to the Island of Saint-Louis, to the Quai Conti and its booksellers, the city's paved banks have long been the haunt of flâneurs and set the scene for the most beautiful romances. Expressing the joy and poetry of this enchanting scenery, Emmène-Moi is a floral, fruity scent created around the osmanthus, a rare, exotic flower with sensual notes, and an olfactory treasure of niche perfumery.
The fragrance opens with luminous, sparkling notes of bergamot, Italian lemon, and black pepper, infused with the juiciness of apricot. The subtle, precious absolu of osmanthus from China then unveils a light and fruity heart evocative of Asia, brightened by floral notes of neroli and lily-of-the-valley. The olfactory journey finally reveals a leathery trail of Virginian cedarwood and musk.
As poetic as it is precious, Emmène-Moi (Take Me) is a perfume whose soft apricot notes create a unique floral, fruity signature.  
Emmène-Moi Burdin : Notes: Bergamot, Italian lemon, Black pepper, Apricot, Osmanthus, Neroli, Lily-of-the-Valley, Virginian cedarwood, Musk.
Amoroso, or A Mediterranean Moment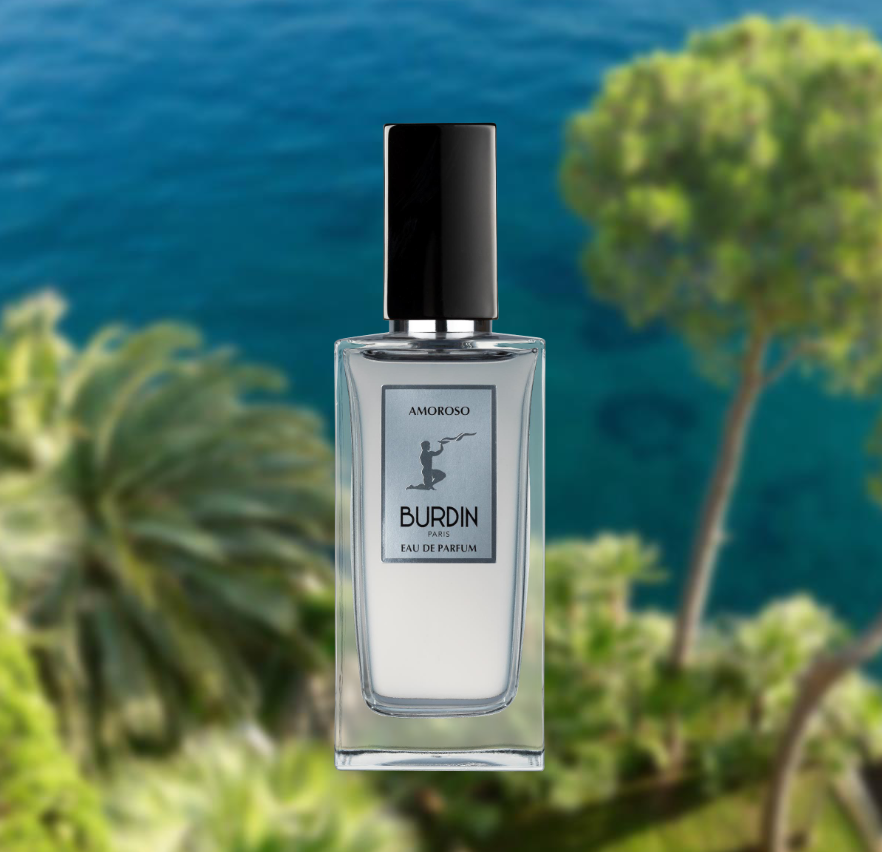 Recreating the olfactory experience of a stroll through an old-world Mediterranean garden, Amoroso Eau de Parfum is a fresh, woody scent whose fruity aromas convey its Italian inspiration.
The fragrance opens with lively, green citrus notes of bergamot and lavender before developing a luminous heart infused with sweet fig, whose fruity, woody scent evokes southern orchards. Cedarwood then delicately blends with vetiver and spices to create profound woody and musky base notes.
An irresistible fragrance, Amoroso (With Tenderness) evokes a timeless sensuality and leaves a sophisticated and enveloping trail.
Amoroso Burdin   Notes: Bergamot, Lavender, Fig, Spices, Cedarwood, Vetiver, Musk.
En Garde!, or Nature's Duality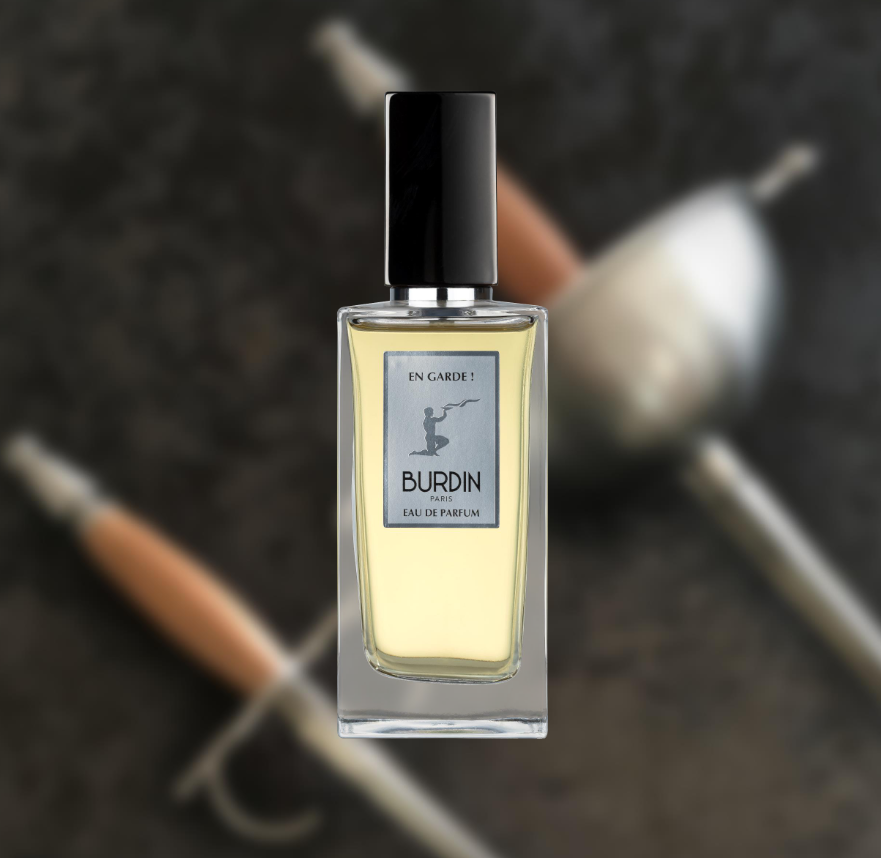 Inspired by the elegance of the art of French fencing, in which success rests on a finely-tuned dance between body and mind, En Garde! Eau de Parfum is a woody, spicy scent that encapsulates the duality of nature.
In the manner of the first hit of a fencing foil, the fragrance's sensual, piercing accord opens En Garde! with a fusion of black and pink pepper and fresh bergamot. At the fragrance's heart, the floral softness of geranium contrasts with warm, woody pine resin. The dry-down reveals mineral resinoid notes, suggestive of a cold blade, which melt with the warmth of cedarwood and the richness of the intense tonka beans.
Unforgettable, En Garde! (On Guard!) perfectly balances intense freshness and masculine sensuality.
En Garde! Burdin Notes: Black pepper, Pink pepper, Bergamot, Geranium, Pine resin, Reins, Cedarwood, Tonka beans, Musk.
Sans Témoin, or The Addiction of the Night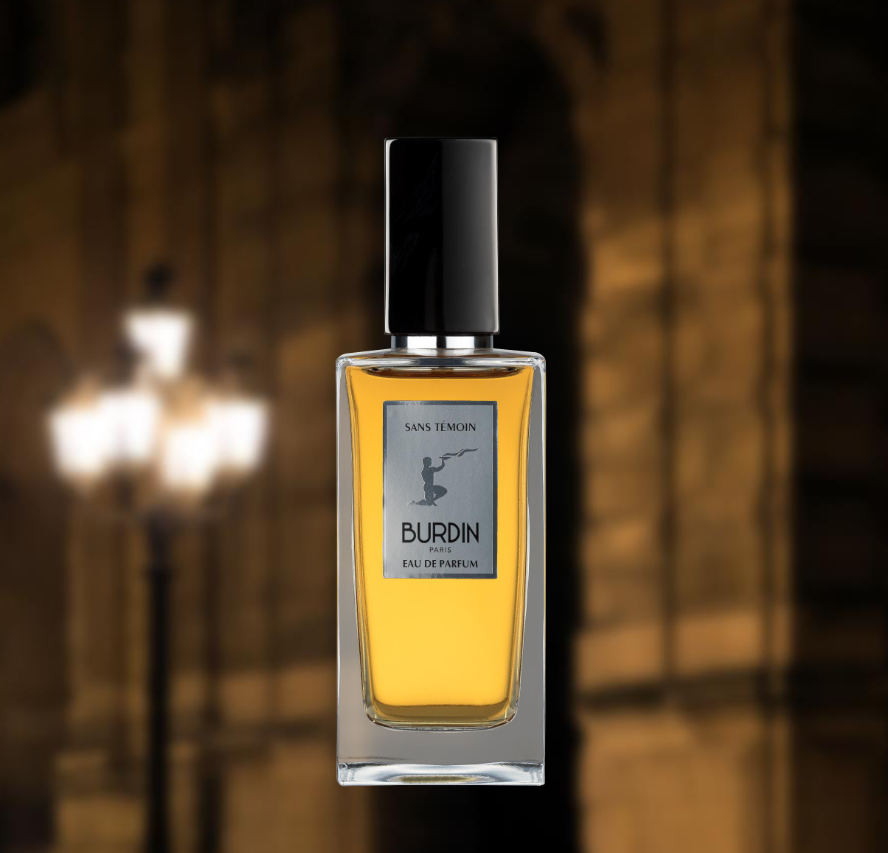 Sensual and magnetic, Sans Témoin Eau de Parfum is an amber and vanilla-scented fragrance that invites the wearer to immerse themselves in a night-time escapade set in a secret, enchanted Paris. The fragrance creates a mood synonymous with prohibition and transgression, that lies somewhere between dream and reality.
Blended with the floral delicacy of lily-of-the-valley, a sparkling top note of bergamot guides us toward the fragrance's airy and enveloping heart, composed of a rich, amber accord. This combines with the warmth of cedarwood and the sensuality of patchouli, which unite to create a unique vibration that bewitches the senses. Base notes of vanilla and textured tonka bean lend a musky vertigo to the fragrance.
A bright scent with a dark, sultry side, Sans Témoin (No Witness) evokes the mystery of an endless night, and leaves behind it an opulent, addictive trail.
Sans Témoin Burdin Notes: Bergamot, Lily-of-the-Valley, Amber, Cedarwood, Patchouli, Vanilla, Tonka beans, Musk.
All new Burdin Paris perfumes are available in Eau de Parfum concentration, and the 100ml bottles are priced at 140 euros through the official Burdin Paris website.