by Karl Topham on cafleurebon.com, February 19th 2022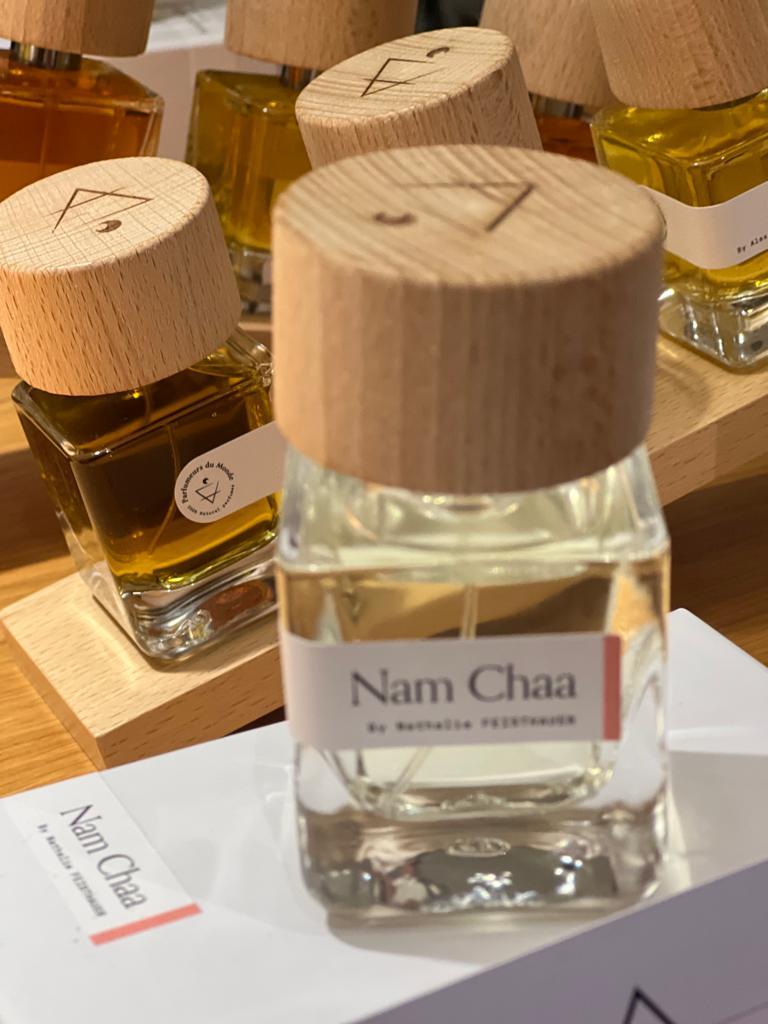 Parfumeurs Du Monde Nam Chaa © photo Nathalie Feisthauer
How do we contextualize what is special? Is it a feeling? An experience? An object? It is all of these. When all combine into a microcosm of a memory, the majesty of true emotions set in and are well and truly defined. In the quilt of our lives, moments of time and places are woven together and yet, specific events, times and places represent the most beautiful and delicate of patches. Perfume can represent the echo of such emotions, links to family, travels to far off destinations immediately accessible through our olfactive experience.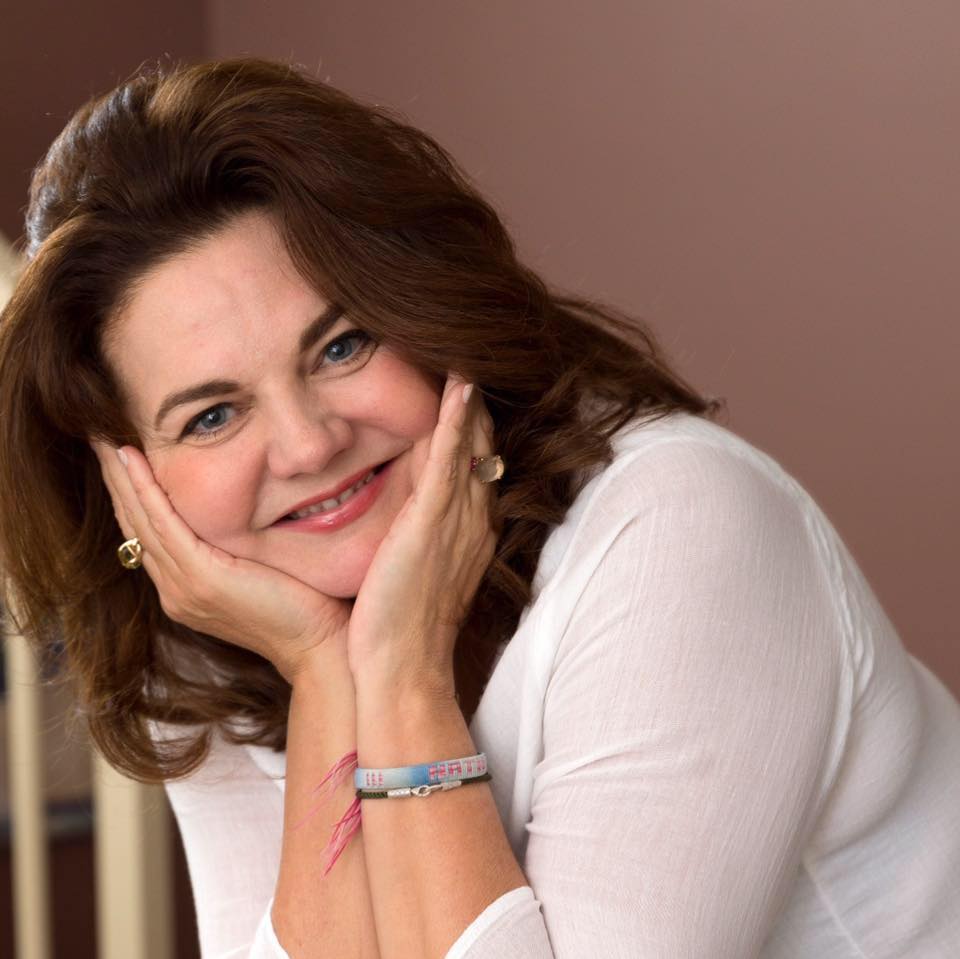 Master Perfumer Nathalie Feisthauer © photo Nathalie Feisthauer
Nam Chaa is the deep expression of such emotions and is described by Parfumeurs Du Monde as, "The quintessence of generous beauty".  When commissioned by Thierry Bernard and Gwenaëlle Chauvin of Parfumeurs Du Monde (Best 2021 Natural Perfume House) to create a special scent to represent the prestige of natural perfumery, via the modicum of transcribing emotions near or far; Nathalie Feisthauer, Perfumer Of The Year unlocked her memory box and travelled back to Koh Tao (Turtle Island) Thailand. It is a strong memory for her and a happy place, where she and her family spent precious time together over fifteen years ago. For her, the freedom to choose and express such a positive feeling led to the creation of a perfume born of natural beauty and an opportunity to depict a fragrant memory close to her heart.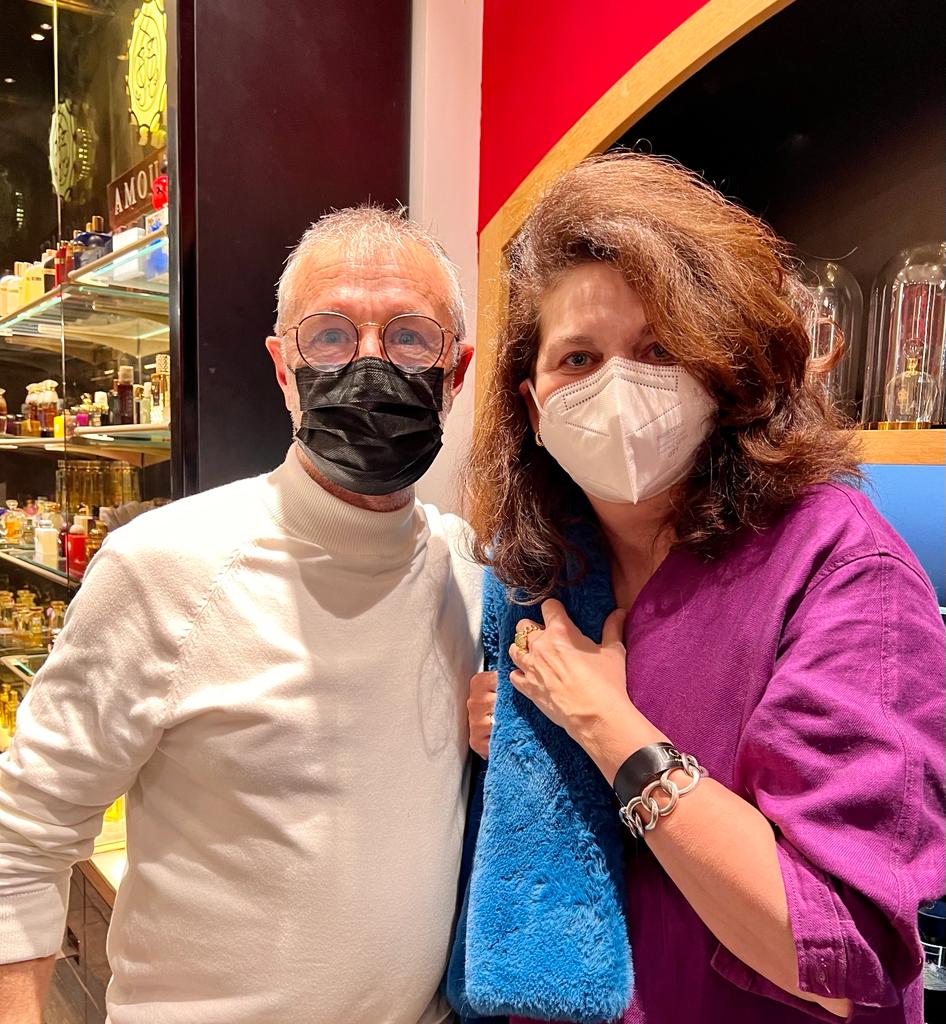 Perfumer and brand founder Thierry Bernard Master Perfumer Nathalie Feisthauer at the Jovoy Paris Parfumeurs du Monde new fragrances official launch at Jovoy Paris  debut 2nd December 2021– © photo Nathalie Feisthauer
As the author of her own story, Nathalie Feisthauer decided to create a floral, spicy scent with musky and slightly gourmand undertones. One built on powerful ingredients. The challenge to produce a natural fragrance using strong and aggressive notes was to balance them and subtly blend them, to bring across the beauty of Parfumeurs du Monde Nam Chaa as uplifting, yet, soft and soothing. Without synthetics to smooth out these notes, the process was tricky and less intuitive. Moreover, the smooth transitioning of the scent would be complicated and an arduous task. As Nathalie explained to me in conversation, "I had to understand and paint the effect with a challenging palette, such work is complicated and can be expensive."
Parfumeurs du Monde Nam Chaa was inspired by Nathalie Feisthauer's memories in Turtle Island with her daughter and son ©
As such, the results of her exploration and creativity are even more impactful when experiencing Parfumeurs Du Monde Nam Chaa first-hand. Nathalie envisaged a clear and meaningful scene when developing the perfume. She was immediately transported back to Koh Tao, sitting on a Kapok cushion, her senses jostling between the tea plantation, the rice terraces, and the wooden house, whilst witnessing her children playing happily. This feeling was captured via coriander dancing with spicy ginger, whilst black tea dressed the picturesque view in a warm gourmand exoticism: everything was light and new in the vast jungle covered hill.  The scent thus reveals its true beauty amongst such majestic scenery and happy times.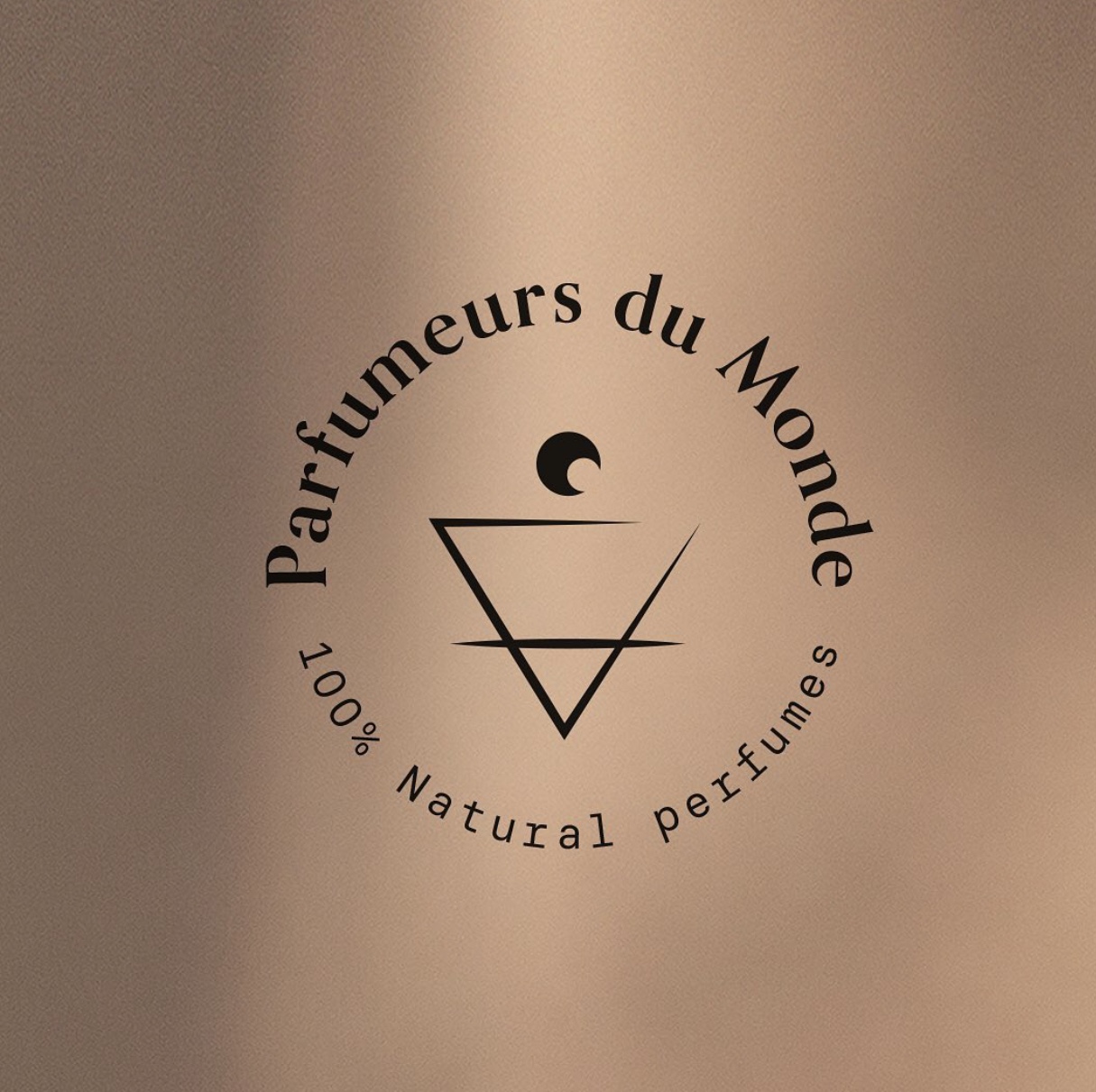 Parfumeurs Du Monde logo courtesy of  Parfumeurs Du Monde
Scent is so personal to each of us and for me Parfumeurs Du Monde Nam Chaa brought happy memories flooding back. The mixture of black tea and the introduction of Thai spices is a sparkling mélange that ignites one's senses immediately. Reminiscent of my mother's tea ceremonies and occasions when I would return home to her sipping on one of her beautifully blended concoctions of ginger and lemon; the warm wafts and trails of the delicate and airy brew mingling with the scent her lemon meringue dessert that she so often carefully and methodically prepared – permeating softly and deeply into my nostrils.  As always, I picture that she has assembled a beautiful array of florals, which anoint the dining table. This effect comes from the use lemon, which to me in combination with the heart of jasmine, champaca and black tea gives an uplifting and hazy experience.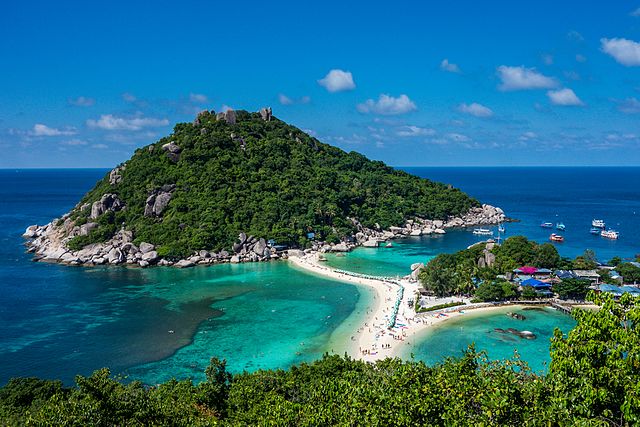 Koh Tao via Wiki
I reference my mother's lemon meringue dessert (because to me at least) Nam Chaa has a gorgeous light gourmand touch to it. This impression may be due to the combination of vanilla and tonka bean.  So light, so smooth with almost a coconut nuance to it… it keeps the balance of the scent framed in an airiness without transitioning to a heavy syrupy accord.  I appreciate this so much. The vetiver and cedarwood ground and provide depth. However, these green and earthy ingredients are dotted around the floral heart and purely play a supporting part to what is a delicate and almost ethereal ballet. Whilst I have never visited Thailand, Parfumeurs Du Monde Nam Chaa gives a photo-realistic feel of what Koh Tao could feel like. There's heat and warmth through the exotic fruit and spices, a languid, relaxing sense of pleasure from the heart of florals and a nod to far eastern cuisine and the surrounding forestry through the base notes. It is a delightful scent that brings well-being and happiness to each wearer and that surely is indeed the effect Nathalie Feisthauer wishes to portray. She has succeeded.
Notes: Bergamot Lemon Grapefruit Coriander Ginger Jasmine Champaca Black Tea Mate Absolute CedarVetiver Vanilla Tonka
Disclaimer: Parfumeurs Du Monde, Nam Chaa sample is a personal purchase. My opinions are my own.
Karl Topham, Contributor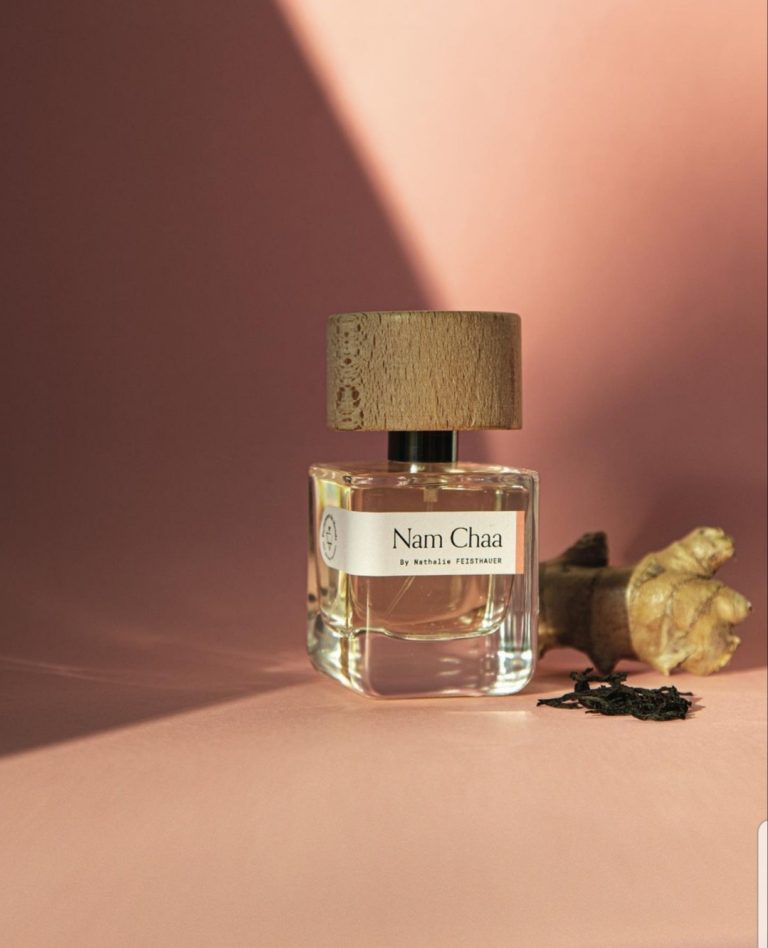 Parfumeurs Du Monde Nam Chaa courtesy of the brand
Thanks to the generosity of Parfumeurs Du Monde we have a 50 ml bottle of Parfumeurs Du Monde Nam Chaa for one registered reader in the EU, USA, UK, UAE. You must register or your entry will not count. To be eligible, please leave a comment saying what sparks your interest based on Karl's review and where you live. Draw closes 2/23/22
Nam Chaa was launched in 2021 and is an all-natural perfume
To urchase at Parfumeurs du Monde and  Jovoy Paris
Follow us on Instagram @cafleurebon @karl.topham @parfumeursdumonde @nathaliefeisthauer
We announce the winners on our site and on our Facebook page, so Like CaFleureBon and use our blog feed… or your dream prize will be just spilled perfume.
Read more on : www.cafleurebon.com
Parfumeurs du Monde website : www.parfumeurs-du-monde.fr