Harrods Magazine, August- September 2021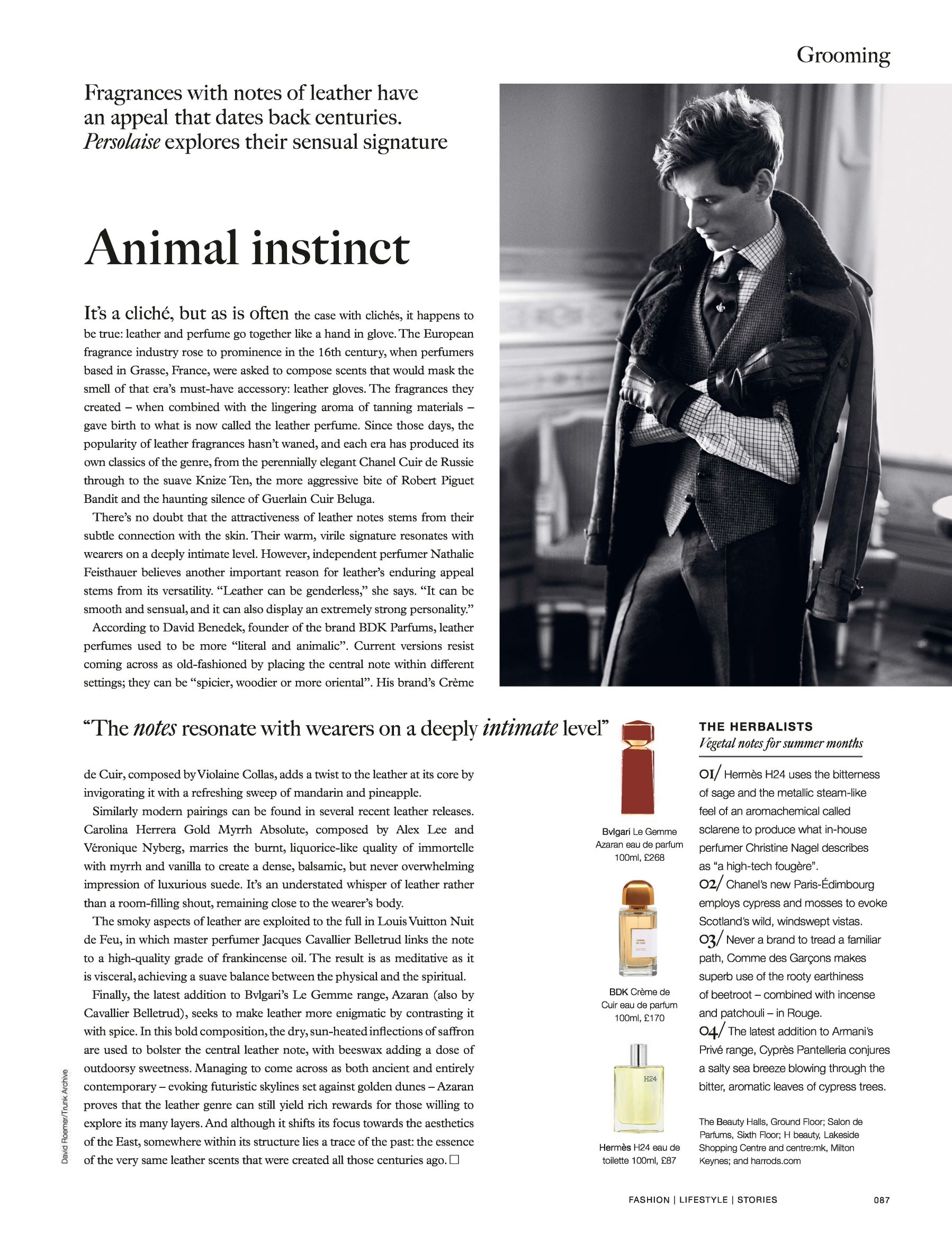 Fragrances with notes of leather have an appeal that dates back centuries. Persolaise explores their sensual signature
It's a cliche, but as is often the case with cliches, it happens to be true: leather and perfume go together like a hand in glove. The European fragrance industry rose to prominence in the 16th century, when perfumers based in Grasse, France, were asked to compose scents that would mask the smell of that era's must-have accessory: leather gloves. The fragrances they created – when combined with the lingering aroma of tanning materials – gave birth to what is now called the leather perfume. Since those days, the popularity of leather fragrances hasn't waned, and each era has produced its own classics of the genre, from the perennially elegant Chanel Cuir de Russie through to the suave Knize Ten, the more aggressive bite of Robert Piguet Bandit and the haunting silence of Guerlain Cuir Beluga.
There's no doubt that the attractiveness of leather notes stems from their subtle connection with the skin. Their warm, virile signature resonates with wearers on a deeply intimate level. However, independent perfumer Nathalie Feisthauer believes another important reason for leather's enduring appeal stems from its versatility. "Leather can be genderless," she says. "It can be smooth and sensual, and it can also display an extremely strong personality." According to David Benedek, founder of the brand BDK Parfums, leather perfumes used to be more "literal and animalic". Current versions resist coming across as old-fashioned by placing the central note within different settings; they can be "spicier, woodier or more oriental". His brand's Creme de Cuir, composed by Violaine Collas, adds a twist to the leather at its core by invigorating it with a refreshing sweep of mandarin and pineapple.

"The notes resonate with wearers on a deeply intimate level"  

Similarly modern pairings can be found in several recent leather releases. Carolina Herrera Gold Myrrh Absolute, composed by Alex Lee and Veronique Nyberg, marries the burnt, liquorice-like quality of immortelle with myrrh and vanilla to create a dense, balsamic, but never overwhelming impression of luxurious suede. It's an understated whisper of leather rather than a room-filling shout, remaining close to the wearer's body.
The smoky aspects of leather are exploited to the full in Louis Vuitton Nuit de Feu, in which master perfumer Jacques Cavallier Belletrud links the note to a high-quality grade of frankincense oil. The result is as meditative as it is visceral, achieving a suave balance between the physical and the spiritual. Finally, the latest addition to Bvlgari's Le Gemme range, Azaran (also by Cavallier Belletrud), seeks to make leather more enigmatic by contrasting it with spice. In this bold composition, the dry, sun-heated inflections of saffron are used to bolster the central leather note, with beeswax adding a dose of outdoorsy sweetness. Managing to come across as both ancient and entirely contemporary – evoking futuristic skylines set against golden dunes – Azaran proves that the leather genre can still yield rich rewards for those willing to explore its many layers. And although it shifts its focus towards the aesthetics of the East, somewhere within its structure lies a trace of the past: the essence of the very same leather scents that were created all those centuries ago. 
Find the original article in pdf format: Harrods Magazine,