by Lauryn Beer on cafleurebon.com, January 1st, 2022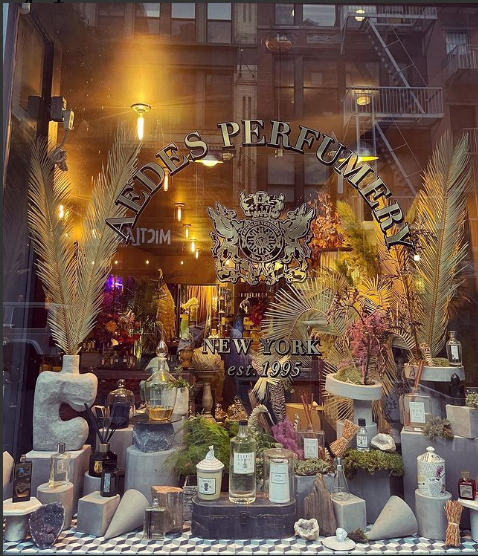 photo by Hernando 
With its eccentrically gorgeous shop, full of dark wood, huge floral sprays, crystal chandeliers, trailing plants and taxidermy peacocks, Aedes de Venustas is more than a well-loved New York perfume boutique: it is a veritable destination as much a part of the fabric of Manhattan as its more illustrious landmarks.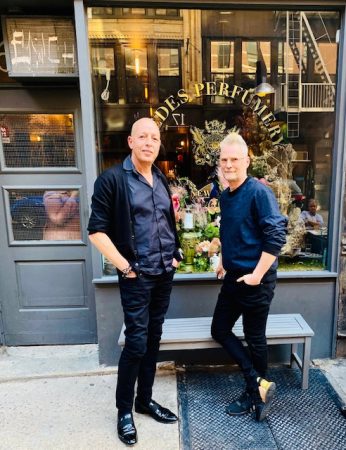 Karl Bradl and Robert Gerstner photo by Hernando
In 1995, owners Karl Bradl and Robert Gerstner created a plush yet welcoming haven for some of independent perfumery's best houses, with celebrated names including Amouage, L'Artisan, and Serge Lutens sharing the store's apothecary shelves and Regency tables alongside newer-to-the-scene brands such as Attache-Moi and Dear Rose.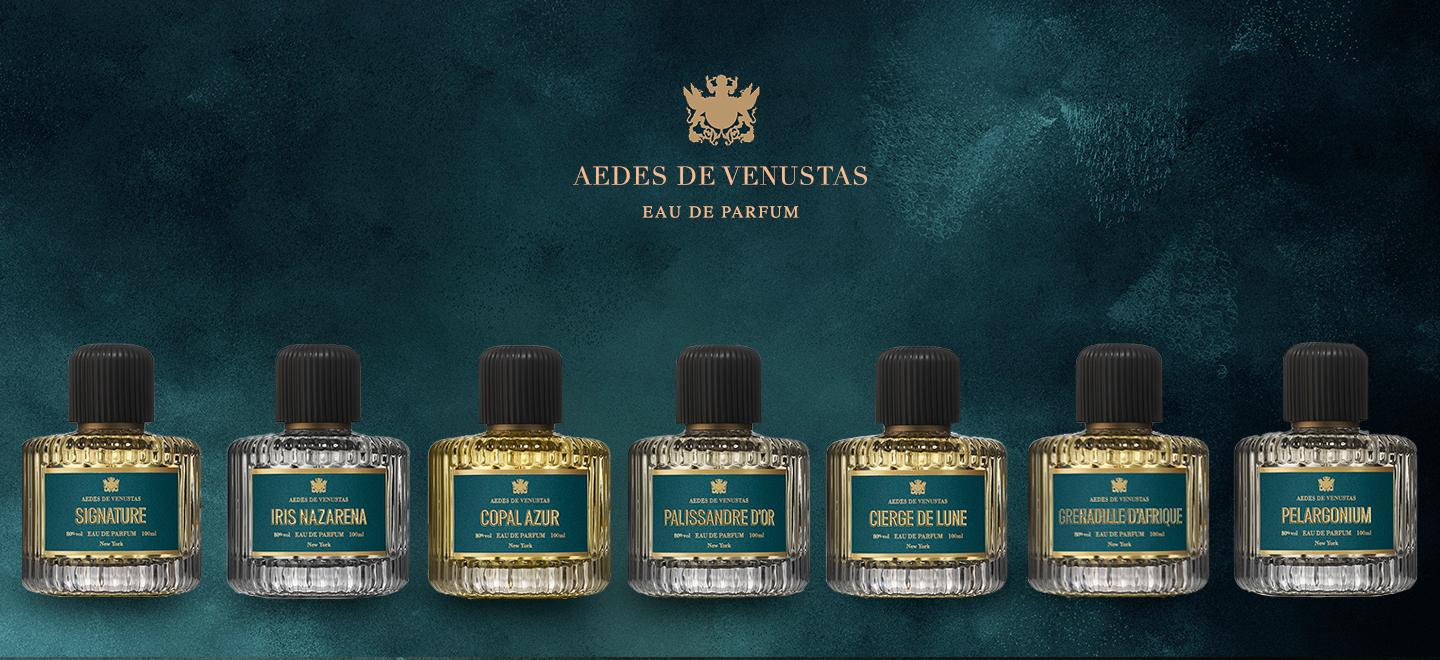 Aedes de Venustas Collection
One of the highlights of Aedes Perfumery is its Aedes de Venustas line, a collection of nine eaux de parfum created by some of the world's greatest noses in concert with the store's founders. While Iris Nazarena and Copal D'Azur are well-known in perfumista circles, here are three beauties that have flown under the radar – and which should be on yours in 2022.
[…]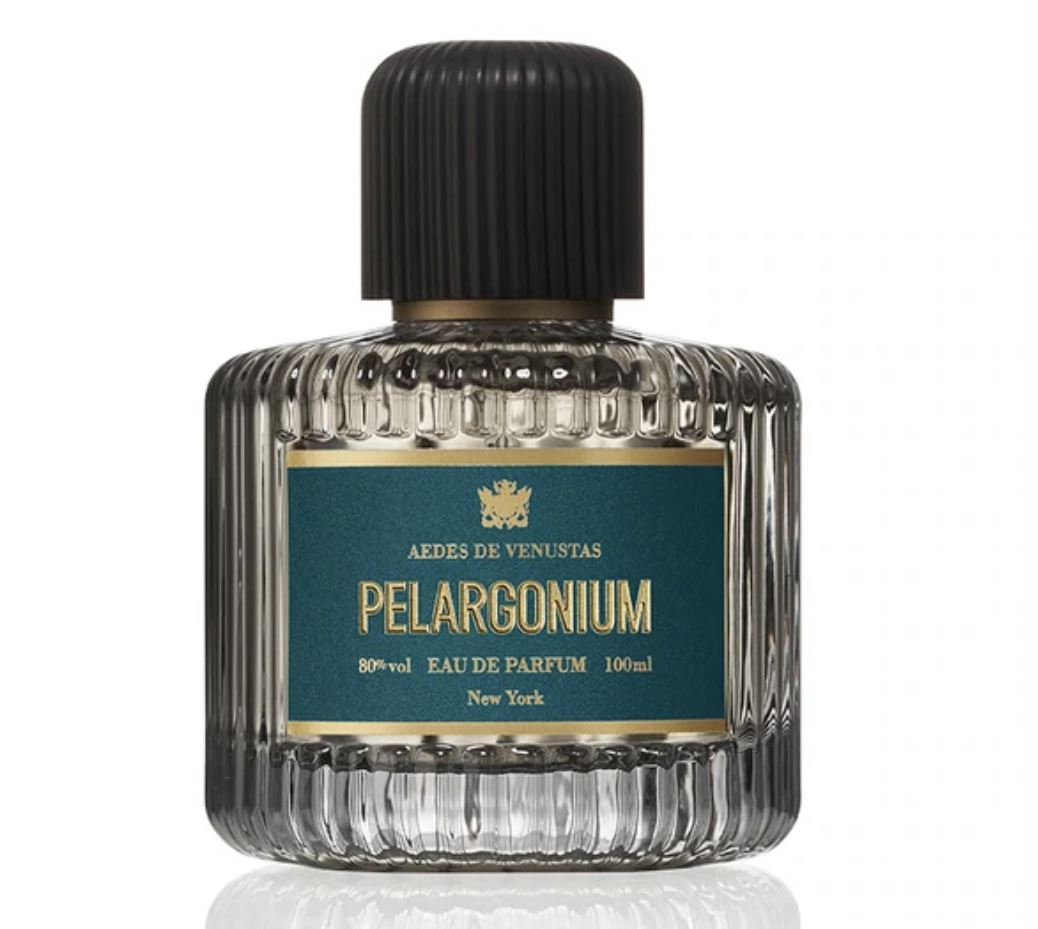 Aedes de Venustas Pelargonium (Nathalie Feisthauer, 2017): It is rare nowadays for pelargonium graveolens to take the starring role in a fragrance. Yet fewer ingredients have as much versatility or depth as the humble geranium leaf. Their velvety texture, mod green-on-green hues, and contrapuntal flowery-peppery odor is frequently an important supporting player, particularly in fougeres. But in the hands of the ever-talented Nathalie Feisthauer, geranium gets it due. And splendidly, too, I might add. Pelargonium opens with a surprisingly cool, misty overture of powdery orris, carrot seed, and a dusting of cardamom and hints of lemon. It is ethereal as spring ground fog.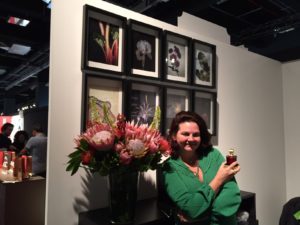 Nathalie Feisthauer at Esxence 2017 for the launch of Pelargonium (photo by Michelyn)
Clary sage starts a dark herbal thread that runs through the fragrance, and which is picked up later by moss and vetiver in the base. These notes each add a quality that begins to coalesce into geranium leaf in the middle. Sage adds texture and, mixing with vetiver, gives off the velvety quality and layered green aspect of the plant's leaves. Cardamom in tandem with elemi provides the peppery-textural aroma, while the backdrop of cedar and guaiac keep the temperature chilled to early April. This is geranium painted by Turner, soft-edged yet dynamic, and thoroughly lovely. A gem.
Notes : Egyptian geranium, orris, cedar wood, vetiver, guaiac wood, moss, green cardamom, carrot seed, clary sage, elemi resin, musk.
[…]
Disclosure: samples sent by Aedes de Venustas; opinions are my own
Lauryn Beer, Senior Editor
Read more on : www.cafleurebon.com/aedes-de-venustas-signature-pelargonium-and-palissandre-dor-3-you-should-be-wearing-draw
Aedes de Venustas website : www.aedes.com